Sensational Summer Salads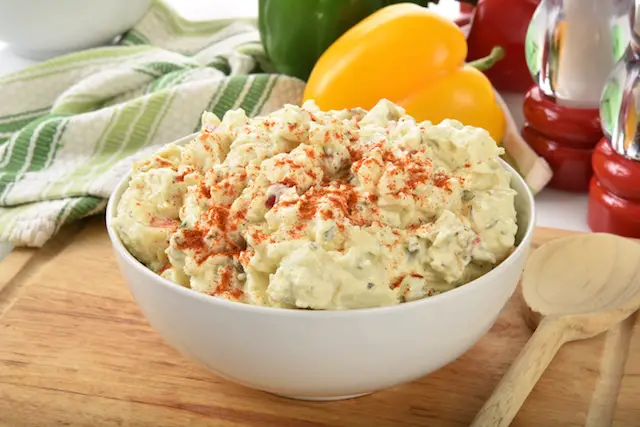 Southern Potato Salad
So you want cool and refreshing summer salads, that are quick, easy and fun to prepare?
If this is true in your case, boy do I have a treat for you. Just keep on reading below to get some awesome salad recipes.

Our Favorite Summer Salad Recipes

These are some of my favorite summer recipes and also the most requested salad recipes from visitors to this website.
Summer is the best time for a social gathering.
That being said, I believe no barbecue, birthday party or any other social gathering is complete without serving some type of potato or fruit salad.
As such, we have complied our collection of salad sensations for your to try out. Enjoy the recipes we provide below.
Salad Sensations
Black Eyed Peas Salad - Have you ever tried this quick and easy, delightful and savory bean salad? If not this is a perfect match for your next barbecue, picnic or family social. Another plus is that this recipe results in a eye-catching, very colorful, but extremely tasty salad.
Fresh Tropical Fruit Salad - this cool and refreshing anytime tropical salad can be eaten for breakfast, lunch or dinner. Give this fruit recipe a try if you want to make the most out of your fresh fruit before it spoils --- Don't let you fruit go to waste and spoil or rot, prepare this salad today!
Fruity Fruit Salad - Here is another fresh fruity fruit salad for your enjoyment. This recipe calls for many of the summer favorites you've grown to love including: apple, mango, nectarine, peach, orange, kiwi, banana and strawberries.
Southern Potato Salad - This is a great starter salad recipe for anyone interested in learning how to make potato salad? This easy to make southern potato salad recipe calls for red potatoes, eggs, onions, celery and mayonnaise.
Potato Salad - This recipe is more for experienced cooks. This southern potato salad is great for barbecues and picnic, or just serve as a side item with any meal.
Layered Salad - A simple and easy green salad recipe submitted by Brenda L. Jackson author of the Culinary Roots cookbook.
Once you have enjoyed a taste of these summer salads I am sure you'll look around and try out the other delicious recipes on this website.
---