Fruity Fruit Salad Recipe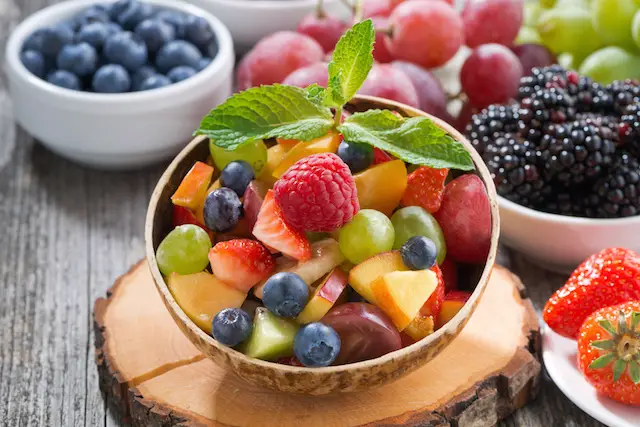 Fruity Fruit Salad
Enjoy All oF Your Favorite Fruits
This fruity fruit salad recipe has as the main ingredients all of the fruit favorites. If you ready to taste an explosive blast of fruit, just head to your nearest grocery store and pick up all the ingredients.
This recipes calls for the following fresh fruits:
Strawberries
Nectarines
Peaches
Kiwi
Bananas
Mango
Apples
Oranges
Feel free to enjoy this easy to make fruity salad recipe anytime, for breakfast, lunch, dinner or just as a snack. Here is the recipe for your enjoyment.
Fruity Fruit Salad Recipe
Recipe Ingredients:
1 orange
1 nectarine
1 kiwi fruit
1 peach
1 banana
1 mango
1 apple
4 ounces of strawberries
3 tablespoons lemon juice
3 tablespoons pineapple juice
3 tablespoons orange juice
Cookware and Utensils:
1 large mixing bowl
1 glass serving bowl
1 salad spoon
Recipe Instructions:
As always the key to great cooking is to be prepared and to use quality ingredients. Pick up your fresh fruit from the local market. If something is not available simple leave it out or pick an appealing substitute.
Start by rinsing your fruit under running cold water. Dry the fruit before cutting.
Cut the peach and nectarine in half and remove the pits. Now cut the halves into quarters and then bite size slices.
Remove the core and the peel the apple. Cut the apple into chunks or slices.
Peel and slice the mango. Discard the mango seed.
Peel the orange and divide into sections. Be sure to remove all of the outer membrane.
Peel the banana and kiwi fruit and cut into small pieces.
Hull each strawberry, then cut into pieces.
Combined fresh fruits in a large mixing bowl and gently toss. Add orange, lemon and pineapple juice to fruits. Again gently toss fruit to coat. Next transfer the fruit to a glass bowl and chill in the refrigerator. Serve the salad cold.
Okay I know what you're thinking, this seems like a lot of work. It is but the effort is worth the rewarded. Enjoy your fruity salad recipe.
This recipe provided courtesy of https://www.soulfoodandsoutherncooking.com/