Easy Oven Baked Ribs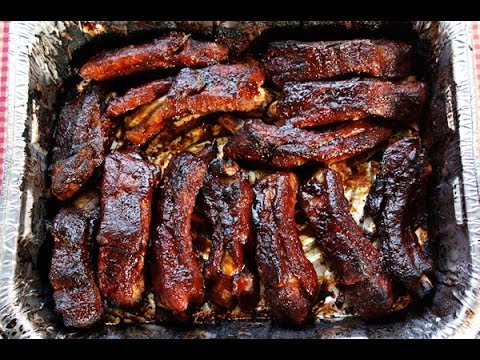 Easy Oven Baked Ribs
Today's recipe is easy oven baked ribs. You're going to LOVE this "must try" never fail recipe for baby back ribs because it is simple, easy, and you got outstanding results each time.  What we like best about this recipe is the fact you get nice tasting, delicious, and juicy ribs that fall of the bone.  Not to mention that, this is a recipe you can use all year round unlike most outdoor grilling recipes you'd expect to have the best weather.
Now the recipe you'll see and learn all about today is totally fabulous. You're going to learn how to prepare and bake the best tasting ribs how to use a disposable foil pan for the easiest cleanup ever.  Or you could just line you baking pan with aluminum foil for a mess free cleanup as well.  I've been told and can personally attest to the fact that you want have any leftovers to eat, so get you a heaping plate of ribs before they're all gone.
This oven baked ribs recipe comes to you from Jenny who has a personal website over at JennyCanCook.com. Thank you Jenny for the recipe and awesome video below which clearly explains you process for preparing fall-off-the-bone baby back ribs.

Easy Oven Baked Ribs
Recipe Ingredients:
one rack of pork baby back ribs
juice of one lemon
1/4 cup dry rub of choice
1/2 cup barbeque sauce of choice
Recipe Instructions:
Preheat oven to 300° F.
Remove excess fat from ribs. Peel the silver skin off the back of the ribs - lift with a sharp knife and grab with a paper towel to remove.
Cut ribs apart into individual pieces.
Rub ribs all over with lemon juice.
Coat ribs with dry rub. Place meat side down in large baking pan, & cover tightly with foil, shiny side out.
Bake in the oven for 2 1/2 hours.
Remove from oven & pour off liquid.
Brush bbq sauce over all sides of ribs.
Grill: To finish ribs on the grill, remove from the pan and place ribs on the grill (I use a basket over direct but low heat) basting and turning a few times for about 10 minutes.
Oven: To finish ribs in the oven, set oven to broil and return ribs to the same oven rack, uncovered, basting and broiling about 5 minutes per side, watching so they don't burn. They will be so tender, it's best to turn them using gloved hands
This recipe provided courtesy of http://www.jennycancook.com/