Grilled Beef Short Rib Recipe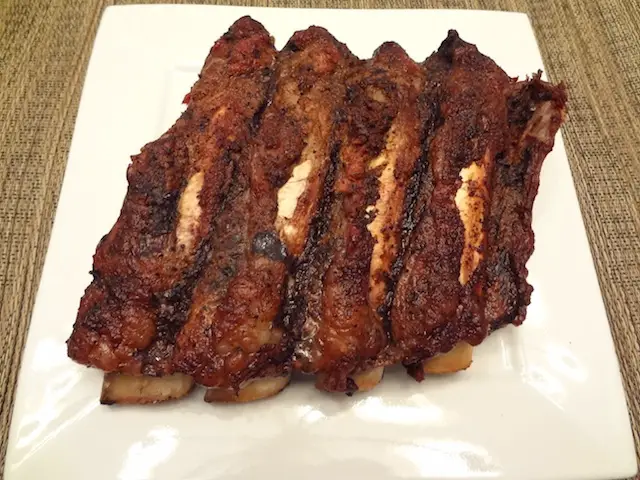 Are your ready to fire up the smoker or grill?  
If so, we have a beef short rib recipe that you should try out.  This recipe is just a little something new that you can try, other than grilling or smoking pork ribs like we so often like to do.
What I like most is that beef short ribs are very meaty.  
However, the downside is that because of all the meat and big beef bones, beef ribs take a considerable amount of time to cook properly.
Although these ribs will take you some time cook, it will be well worth the wait.
When you finally sit down at the dinner table to enjoy a plate of tender and juicy ribs, you'll be glad you waited.
Beef Short Rib Recipe
2 to 3 racks

beef short ribs

2 cups

orange juice

, without pulp

1/2 cup

balsamic vinegar

1/2 cup

extra virgin

olive oil

1/2 cup

Worcestershire sauce

1 tablespoon

soy sauce

1 teaspoon

hot sauce

1 tablespoon

dry mustard

1 tablespoon

garlic powder

1 teaspoon

chili powder

1 teaspoon

paprika

Recipe Instructions:
Prepare beef short ribs for cooking by rinsing and letting the ribs drain in your kitchen sink. For more tender ribs, peel away the membrane on the backside of the ribs.
Prepare marinade by combining and mixing together the orange juice, olive oil, Worcestershire sauce, soy sauce, hot sauce, dry mustard, garlic powder, chili powder and paprika in a medium mixing bowl. Separate and reserve 3/4 cup for basting.
Pour remaining marinade into a dish and add ribs meat side down into marinade. Cover dish with foil or plastic wrap and allow beef ribs to marinate in the refrigerator for 4 to 6 hours.
Remove ribs from refrigerator. Drain and discard marinade from ribs and set ribs aside until ready to cook.
Meanwhile, preheat grill to medium high heat (450 to 550 degree Fahrenheit) and prepare grill for indirect cooking.
In a medium saucepan, bring reserved marinade to a boil. Once boiling, reduce heat to simmer and continue to cook and stir for 10 minutes. Remove from heat and set aside. This marinade will be used as a baste during grilling of the ribs.
Once the grill reaches a temperature of 450 to 550 degree Fahrenheit, it's time to place the ribs on the grill. Place the grill rack 6 inches from the coals and cook the ribs on the side of the grill opposite the heat source(indirect cooking).
Maintain a constant temperature and continue to cook the ribs for about 1 hour, basting the beef ribs frequently with your marinade.
Once done remove ribs from heat. Place ribs in a pan, then baste generously with any remaining marinade. Cover pan with aluminum foil, allowing ribs to cool for about 10 minutes before serving. Serve your beef short ribs with your favorite side items.
I'm sure you will enjoy this beef short rib recipe for many years to come.
Please try some of the other grilling and barbecue recipes that are available for your use.
This recipe is courtesy of https://www.soulfoodandsoutherncooking.com/