Our Most Favorite Side Dishes
For Chicken and Dumplings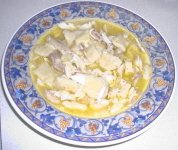 Chicken and Dumplings
We'd like to share our most favorite side dishes for chicken and dumplings. Our favorite side dishes are:
Honey Glazed Carrots
Steamed Vegetables
Creamed Corn
Stuffed Bell Peppers
String Beans
Salads
Cornbread
Butter Rolls
We frequently are asked "What foods do you serve with chicken and dumplings?". So in response to this great question we provide the following advice, list of foods, and  recipes so that you know what to eat with your chicken and dumplings.
Our very first recommendation is that you prepare yourself some real and authentic homemade chicken and dumplings.  Because homemade dumplings always taste the very best.  
Click here to download our favorite recipe for homemade chicken and dumplings.
Now for most people chicken and dumplings has long been considered a one-pot meal.  You know the type of meal you can cook and it will stand alone as a complete meal all by itself.  However we have seen the most success and received rave reviews when we serve chicken and dumplings along side some deliciously prepared side dishes.
By far we have found the most favorite of all sides to be glazed carrots. You can get our honey glazed carrot recipe here.  Running a close second is the very popular addition of some very healthy and nutritious steamed vegetables.
Creamed corn is another popular accompaniment that goes well with chicken and dumplings.  Click here for the best creamed corn ever recipe.
A few more great side dish selection are stuffed bell peppers, string beans, and salads.
Now most folks might dismiss the possibility of serving bread as a side because of the dumplings.  Be we advise you not to overlook bread as a nice addition to your chicken and dumplings dinner.  You can use breads such as cornbread or old fashioned butter rolls to sop up the dumpling gravy.
That about does it, you should know have enough ideas to improve your chicken and dumplings dinner. Now all that's left is for you to get into the kitchen and prepare yourself a homemade meal.  Should should now be confident and ready to get the job done.  No time to worry or waste go into the kitchen a prepare yourself that me. 
Can we ask a favor? If you have other ideas or suggestion we ask that you leave them here.
Return from Side Dishes For Chicken and Dumplings to Soup Recipes