Shrimp Jambalaya Recipe - A Quick and Easy Louisiana Special
This shrimp jambalaya recipe is quick and easy to prepare, but still is packed with the traditional Louisiana Cajun Creole style flavor you are accustomed to.  
I like to prepare this jambalaya recipe a day in advance because the leftovers taste so great. Like any great tasting Louisiana style dish, this recipe for shrimp jambalaya has onions, celery and green peppers.

Try serving jambalaya as a side dish or as your main course.
This is one of those special dishes you'll want to prepare and showcase when you are entertaining special guest at the house.  
And another thing, if you family likes shrimp as much as mine, be prepared to fix this recipe a few times per month. My family just can't seem to get enough of this delicious and flavorful dish.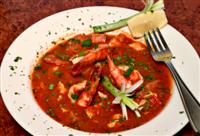 Shrimp Jambalaya Recipe
Recipe Ingredients:
3 tablespoons oil or shortening
2 tablespoons flour
1-1/2 cups onion, chopped
1 cup green pepper, chopped
1 clove garlic, finely chopped
1 cup celery, sliced
1 can (28 ounce) tomatoes
1 small can tomato sauce
salt to taste
2-1/2 cups water
2 pounds shrimp, shelled and deveined
hot sauce to taste
2 cups uncooked rice
Recipe Instructions:
Cook rice according to package directions.
Heat oil in a heavy pot. Add the flour and cook over medium heat, stirring frequently, until mixture turns darkish brown. This will take about 15 minutes.
Stir in onions, peppers, garlic and celery. Add the tomatoes and tomato sauce. Stir in salt and water. Simmer until vegetables are soft. Add the shrimp and cook covered until the shrimp are pink. This just takes a few minutes, depending on the size of the shrimp. Add hot sauce for flavoring, a few drops at a time.
Serve the shrimp mixture over hot cooked rice.
This recipe provided courtesy of https://www.soulfoodandsoutherncooking.com/
This jambalaya recipe comes from Karen Ciancio. She has a wonderful cooking and recipe site called www.cookingnook.com.  Have a look if you are even in need of something other than soul food.