Cajun Creole Jambalaya Recipe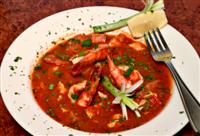 So you're looking for a jambalaya recipe? That means you are looking to experience Cajun-Creole cooking from Louisiana? That's great because I have a delicious dish for you...jambalaya.  There are as many variations of this recipe in Louisiana, as there are recipes for southern fried chicken in the South.  
This recipe calls for sautéed vegetables, spices, rice, chicken, sausage and shrimp. Believe me combining these simple ingredient together will result in a some lip smacking, mouthwatering, delicious, and flavorful meal, that you want be able to get enough of.  
Ready for a great tasting dish that will take center stage? Yes, I thought so. Okay, go ahead and try the recipe below.

Cajun-Creole Jambalaya Recipe
Recipe Ingredients:
1 pound smoked sausage, sliced
1 pound chicken, pieces
1 pound shrimp, peeled and deveined
2 tablespoon vegetable oil
3 cups chicken broth
2 cups rice -uncooked
1 can (16 oz) tomatoes
1 cup chopped onion
1 cup chopped green bell pepper
1/2 cup chopped celery
1/2 cup chopped green onions
2 cloves garlic, minced
1 bay leaf
1/4 teaspoon pepper
1/4 teaspoon hot sauce
1/2 teaspoon salt
Cookware and Utensils:
1 large skillet
1 cutting board
1 kitchen knife
Recipe Instructions:
As always, the key to great cooking is to be prepared and to use quality ingredients.
Wash chicken pieces and pat dry with paper towels. Heat vegetable oil in large skillet. Add sausage, chicken and then brown meats on both sides. Remove meat from skillet.
Next, add onions, green bell peppers, celery, green onion and garlic to skillet. Sauté over low heat until onions are tender.
When onions are tender, add broth, tomatoes, bay leaf, salt, pepper, hot sauce and rice. Stir thoroughly and bring mixture to a boil over medium-high heat. Return meats to skillet, reduce heat, cover and simmer until sausage and chicken are tender, about 30 minutes.
Stir in shrimp and cook until shrimp turns pink, about 4 minutes. Now your jambalaya is ready to eat.
Enjoy your meal.
This recipe provided courtesy of https://www.soulfoodandsoutherncooking.com/
Warming up leftover jambalaya can be a breeze with the right technique.
Begin by preheating your oven to 350°F and lightly oiling an oven-safe dish. Once the oven is prepared, add your jambalaya to the dish and cover it with foil. Place it in the oven and bake for 15 minutes, or until it's warm throughout.
For best results, heat it further on the stovetop over low heat if necessary. There's nothing like enjoying a delicious bowl of jambalaya, so with this technique you can always make sure that leftovers won't go to waste!