Homemade Cream Style Corn Recipe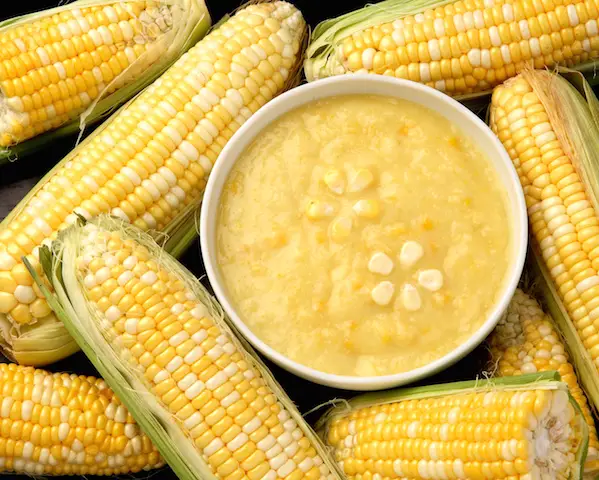 Cream Style Corn
In response to many request for cream style corn, I went into the kitchen and whipped up my finest dish of cream corn.  For many people, eating sweet and creamy corn is a family tradition, but for some the family recipe got lost over the years. 
No worries, because the recipe that follows produces some of the best tasting cream corn ever.  
When I make this recipe for my family we never have any leftovers.  I have found that that little extra teaspoon of sugar (my secret ingredient) makes all the difference.  
My wife and son are both still amazed and can not guess my secret ingredient. Get ready to prepare a quick and easy dish that cooks up right each and every time.
Homemade Cream Corn
Recipe Ingredients:
6 ears fresh corn
1/4 cup butter
4 tablespoons water, divided
1 teaspoon sugar
1 tablespoon flour
1/2 teaspoon coarsely ground black pepper<
1/2 teaspoon salt
3/4 cup milk or half-and-half
Recipe Instructions:
Using a sharp knife, scrap corn kernels from the cob into a bowl so that you can retain the corn and juice, set aside.
In a large skillet, melt butter then add corn mixture. Next add in 3 tablespoons water and sugar -- stirring constantly.
Continue to cook the corn until it's tender. Once corn becomes tender, mix 1 tablespoon of water, with 1 tablespoon of flour, salt, and pepper, blending well.
Finally, gradually add your milk. Cook and stir cream-style corn continuously for 2-5 minutes. Serve immediately.
This recipe provided courtesy of https://www.soulfoodandsoutherncooking.com/
I like to serve this cream corn side dish with my homemade Lyonnaise potatoes and fried chicken.  This is one of many sides dishes that you can prepare in a flash in order to put a meal in your dinner table in little to no time.