Patti LaBelle's Lite Cuisine Cook Book Review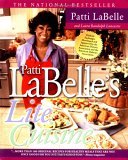 This cook book review is a must read before purchasing your next diabetic cook book. Lite Cuisine is Legendary singer Pattie LaBelle's follow up to her first cook book "LaBelle Cuisine".
But unlike LaBelle Cuisine which featured down home, soul food and southern cooking recipe favorites, Lite Cuisine spotlights diabetic friendly recipes.
This diabetic cook book is ideal for you if you or someone in your family is living with or has a family history of diabetes.
The diabetic recipes in Lite Cuisine were specifically designed with the help of the American Diabetes Association and American Dietetic Association.
After trying several Lite Cuisine recipes it's my opinion that Patti did an outstanding job transforming southern favorites into diabetic friendly recipes.  
My personal favorites are cajun chicken caesar salad, shrimp and salmon melts, and greek gyros which I consider all to be modern recipes.
It's important to note that the most surprising thing I discovered is the food taste great. No real lose of flavor, so the food will taste good to all of your family members and any friends that you may invite to dinner.
Containing over 100 flavorful diabetic recipes, each recipe in this cook book features serving sizes, nutritional information, and diet exchanges.
In addition this cook book is no different than any other cook book with recipes in the following categories: desserts, meats, fish, seafood, soups, salads, side items, sandwiches and much more.  You truly can cook a full meal ranging from appetizers to dessert with this wonderful cook book.  
---
Are you looking for a quick, easy, and affordable way to grow or start your very own soul food cook book collection? If so...
Return from The Lite Cuisine Cookbook Review to the Best Soul Food Cook Book Review