The African American Book Club
Discover The Perfect Recipe For Good Living
Could an African American book club be your answer to finding that special soul food recipe? It most definitely could. In fact, the right book club can help you answer many perplexing questions in general and also be a source of entertainment and adventure.
Trust me the right book can work wonders on your body and soul.
Just imagine the great feeling you'll have from being the proud owner of a collection of black cook books. For maybe the first time in your life, you'll be equipped with the right stuff. Without a doubt you now have control your destiny.
You can take total control over the foods you prepare and eat. Most importantly you can do some major influencing in others. You see the old saying is true, "The best way to a mans heart is through his stomach". This old adage also equally applies to the opposite sex and children as well.
Now let's get back to that special recipe that you're in search of. It could easily be a recipe for a meal you'd like to cook, as well as the best diet for your particular body type or other useful life altering information.
An African American Book Club can provide you more than just a great select of black cook books.
Are you looking to solve money problems, need inspiration, seeking spiritual advice, searching for romance, in need of shopping bargains, want to know your black heritage, etc? Then joining a book club well suited for your lifestyle is just what the doctor order.
Whatever your motives for considering a black book club, I've researched the internet and found the best African American book club deal. African American book clubs offers an affordable opportunity for you to start or grow your cook book collect. Or maybe you'd like to give a close friend or relative something to get them cooking.
For a limited time only you can purchase 5 books for just $2.00 plus shipping and handling.
I know what you're thinking the shipping and handling will cost too much. I did the math and this still works out to be great deal...see for yourself.
For example, let say you decided to purchase the 5 Introductory books listed below. I picked these at ransom from Black Expressions Cooking and Nutrition book category.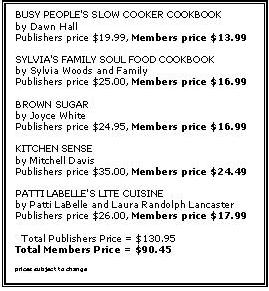 The good news is, You pay only $2.00 (not $90.45) plus shipping and handling for these 5 introductory cook books. With this example purchase you save $88.45 by joining this African American Book Club.
Joining the Black Expressions Book Club is a simple process
Select 5 introductory books for just $2 plus shipping and handling
Fill out the Enrollment form to join the book club
Read and Agree to the Membership Agreement
Provide payment information
Review and Confirm your order
Joining is Risk Free!
Yes, I said Risk free. I know it's great news. If you're not totally satisfied with your first order you can cancel your book club membership if the books are returned within 20 days.
Special Offer
Join Now and you'll get 5 books for $2.00 and a tote for free. Join Black Expressions book club, get 5 books for $2 + a FREE tote!

Not sold just yet?
Okay so you may not be sold on the benefits of joining a Black Book Club just to grow your cook book collect. Well consider these additionally benefits offered by Black Expressions African American Book Club.
In addition to cooking and nutrition, you can choose books from several categories including: Authors to Know, Bargain Books, Biography/Memoir, Christian Living, Classics Library, Fiction, Heritage and Culture, Inspiration, Kids Corner, Living Well, Merchandise, Money and Finance, Mystery, Psychology/Self-help and Special Reports.
With hundreds of books to choose from and an ever growing list it's easy to see that there is something to spark the creativity and interest in us all. If you're really not interested in joining just for cook books, please consider joining Black Expressions for the wealth of knowledge you'll gain be using this extensive resource of books for all.

Black Expressions Book Club  Join by Enrolling Now!