The New Soul Food Cook Book For People 
With Diabetes Cook Book Review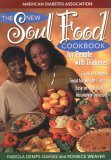 After receiving it's blessings from the American Diabetes Association, The New Soul Food Cook Book for peoples with diabetics is ready to put food on your table. In fact, this diabetic recipe cook book will be a welcomed addition to any family currently living with or at risk for diabetes which is prevalent in American society.
This African American cook book shows you how to prepare traditional favorites that are low in fat, sodium, and sugar.
I commend you for taking the steps to cooking healthier.  
With this cook book you're sure to give yourself and your family the gift of life by preparing healthier foods.
The New Soul Food CookBook features well over 140 diabetic recipes, many of which are well known remakes of the traditional soul food favorites you grew up on.  Recipe categories include:
Appetizers
Soups and salads
Breads
Meats
Seafood
Vegetables
Beans and more
My personal recipe favorites from this book are barbecue pulled pork, shrimp fried rice, lima beans, and hoe cakes. You know these are all traditional old time favorites just prepared in a different way to suit the diabetic lifestyle.
I'm please to say that the recipes taste delicious and that the two Authors who wrote this cook book sure know how to burn in the kitchen.  They were very successful in transforming some traditional soul food and southern cooking favorites into diabetic friendly recipes.
Looking for a quick, easy and affordable way to grow or start your very own soulfood cookbook collection?
Return from the The New Soul Food Cookbook Review to the Soulfood Cookbook Review Page