What Is The Best Way To Cook Salmon?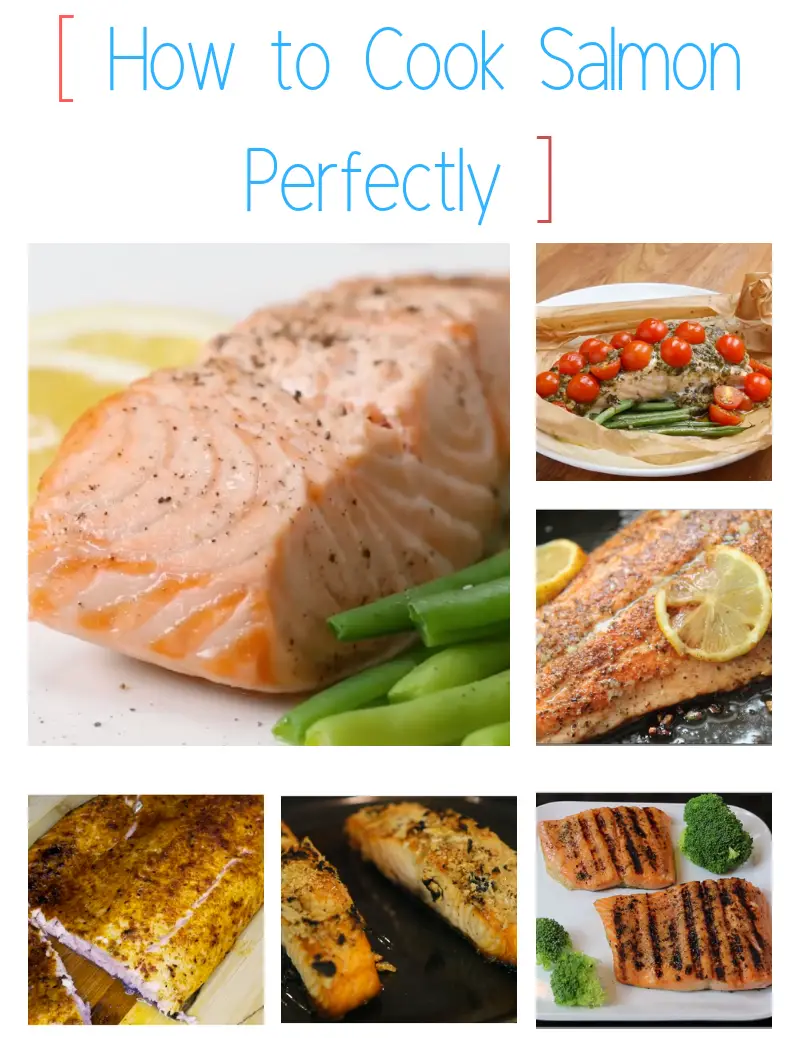 7 Ways to Cook Perfect Salmon (TIPS & TECHNIQUES)
Salmon is a very versatile, delicious, and healthy meat.  When it comes to cooking methods and techniques, there are several ways to prepare salmon. Salmon can be pan seared, pan fried, oven roasted, broiled, grilled, poached, and cooked in parchment paper.
Now you might be thinking which preparation method is best? Well it all depends on whether you prefer cooking your salmon on the stove, in the oven, or outside on a grill.  Below you'll learn the details of cooking salmon and will get a better appreciation and understanding of the advantages and disadvantages of each way of cooking.

Cooking Salmon on the Stove

The easiest and most convenient way to cook salmon is on the stove. The methods I like most are poaching, pan frying, and pan searing. If you like the hands on approach to cooking and like to stay busy in the kitchen while you are preparing delicious meals, the stove method is the way to go.

Method #1 & 2

Pan Seared Lemon Butter Salmon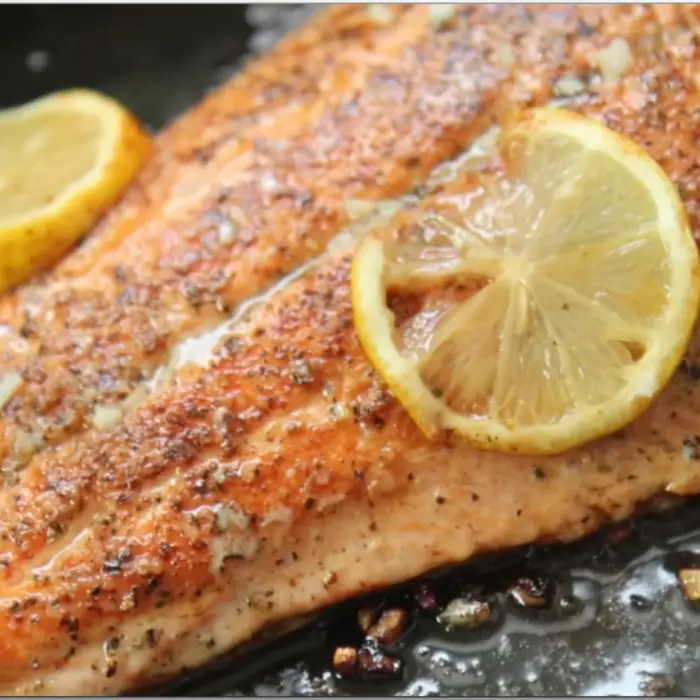 Pan Seared Salmon
The pan-seared cooking method is very simple. The pan seared salmon should be fried until it is crispy on the outside and tender and flaky on the inside.

For this method you need salmon fillets with skin on. First generous season the salmon with salt, pepper, and oregano. Cook the seasoned salmon skin side up in a large heavy bottom or cast iron skillet over medium-high heat for about 5 minutes on each side. If the salmon is thin reduce the cooking time to 2 to 3 minutes on each side.

Prepare your lemon butter sauce while the salmon is pan searing. To do so just, just melt butter in a small skillet. Then stir in fresh chopped garlic and lemon juice. When the salmon is almost done pour the lemon butter sauce over the salmon and cook for an additional minute.
Serving suggestions: serve with asparagus, garlic mashed potatoes, or a side salad.

Method #3
Perfectly Poached Salmon

Poached Salmon
Okay time to learn how to perfectly poach salmon.

What we like most about poaching is that it's a healthy and fat-free form of cooking. We say fat-free because you will not use the oil and butter that you normally use in the other cooking methods.  If you're new to poaching its basically a moist heat cooking technique where you submerge food in a flavored liquid cooking at relatively low temperature.
So here we go.
We'll start our poached salmon by creating a flavorful liquid. Fill a heavy bottom pan (must have lid) with enough filtered fresh water to cover the fillets.  Bring water to simmer then add in fresh lemon, fresh thyme, bay leaf, and peppercorns.  Lower temperature just below a simmer (no bubbles), add salmon fillets, cover pan with lid and poach for about 10-12 minutes.
Remove poached salmon form pan carefully and season with salt, pepper, and fresh lemon.
Serving suggestions: serve with green beans, steamed vegetables, or a side salad.
Cooking Salmon in the Oven

Cooking in the oven is my second most prepared method of preparing some delicious salmon. This is my go to cooking method when I need a hands off approach to cooking so that I can focus on taking while preparing dinner. I usually opt for salmon with skin on one side when cooking in the oven.

Method #4
Crispy Skinned Oven Baked Salmon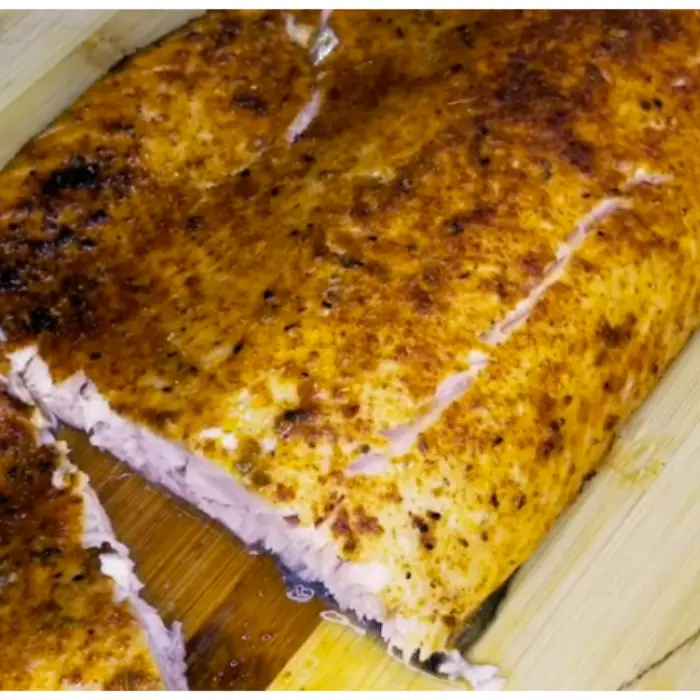 Oven Baked Salmon
Ready to learn how to prepare oven baked salmon?
Baking salmon in the oven is pretty easy if you decide to go this route. I once read somewhere you should cook the salmon 7 minutes per one inch of thickness at 425 degrees. Just measure the thickest part of then salmon fillet to get an estimate of how long to cook.

Preheat oven and foil covered sheet pan to 425 degrees F. While oven is heating, prep salmon for baking by seasoning the fillet well with mix of your favorite fish/seafood seasoning. Place the salmon on the preheated sheet pan and back until done. I like to finish the salmon off underneath the broiler for a few minutes to give the fish more color on top.

Salmon Marinade: My personal preference is to prepare a marinade mix of olive oil, garlic, basil, salt, pepper, lemon juice and parsley. I cover my salmon with this marinade and refrigerate a minimum of 1 hour, turning a few times.
Serving suggestions: serve with cheesy alfredo pasta, steamed vegetables, or a side salad.
Method #5
Oven Broiled Salmon

Oven Broiled Salmon
Who else wants to learn how to broil salmon with a crispy crust?

You're going to learn how to broil salmon in the oven today.
Go ahead and preheat oven to broil. Place two 6 ounce fillets on a foil lined sheet pan. Lightly cover salmon fillets with olive oil and then season generously with salt and pepper. Place pan in oven and broil from 7 minutes.
While fillets are broiling you will prepare your crispy crust topping. You'll need 3/4 cup panko bread crumbs, 1 sandwich baggie full of plan potato chips. Crush up the potato chips and mix well with the panko bread crumbs and a few sprinkle of dill .
After about seven minutes remove broiled salmon fillets from oven and top each fillet with tangy Dijon mustard (spread must on top of fillets). To top of mustard add crispy crunch topping. Place fillets back in oven for a minute or two to brown crust.
Serving suggestions: service with herb potatoes, cilantro lime rice, or roasted brussels sprouts.


Method #6
How to Cook Parchment Baked Salmon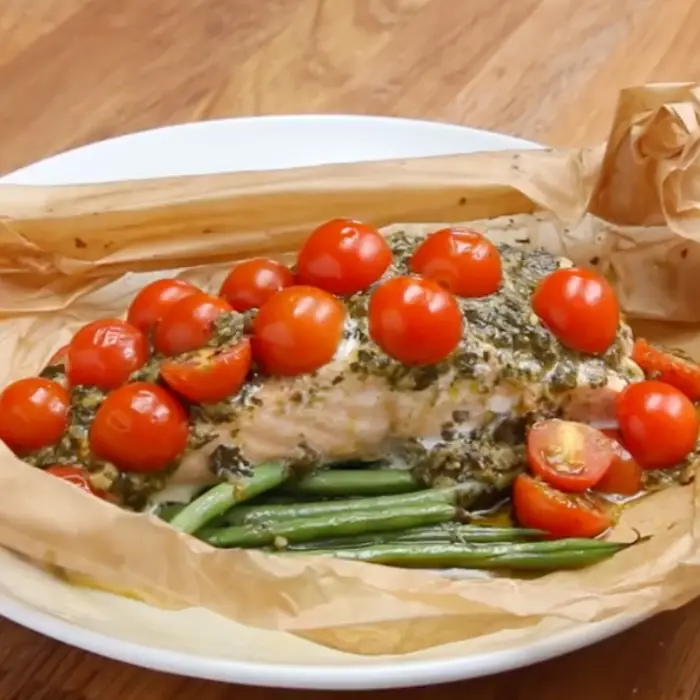 A very popular way to prepare salmon is to wrap it up in parchment paper and steam bake the fish. When it comes to steam fish for the best taste and flavor this is a nice alternative to poaching.  If you haven't cooked with parchment paper you have to give this cooking method a try.
Today you'll learn how to cook tomato pesto parchment baked salmon. Per serving, you'll need parchment paper (12x18 inches), 3 ounces green beans, 2 tablespoons pesto, 10 cherry tomatoes (halved), olive oil, salt, pepper, and 6 ounces salmon.
Preheat oven to 350 degrees F.
Fold parchment paper in half, then open up. On one half of paper, first layer green beans and drizzle with olive olive, then sprinkle on salt and pepper. Next lay salmon on top of green beans, spreading pesto on top of fillet. Top fillet with halved cherry tomatoes. Lastly fold the other half of parchment paper over and cinch together along the edges.
Place parchment paper of sheet pan and bake in preheated oven for 20 minutes until done.
Serving suggestions: Serve over cooked pasta, or a bed of fluffy steamed rice.

Cooking Salmon Outside on the Grill

Method #7
How to Grill Salmon
Grilled Salmon
This is the 7th and finally method on how to cook salmon. Grilling can be a fun event especially when the weather is nice outside and you have some free time.  You can either use a gas grill or go old school and use charcoal to grill your salmon. I prefer charcoal, however, use whichever platform works best for you.
The grill process of salmon is pretty straight forward. Prepare your grill for cooking. While the grill is heating up prepare your fish for grilling. Season with your favorite seasoning the lightly oil the fish with olive oil.
When grilling outside I prefer to use a fillet with skin still on and I grill my fish skin side down.
When ready place your salmon on the grill, skin side down and cook for around 10 minutes until the fish is done. Also note, you will have to flip the fish halfway through cooking if you decide to grill a skinless fillet. That's it folks.
Serving suggestions: grilled vegetables, baked potato, or a side salad.