New Soul Food Cook Book
A Healthy Cook Book Review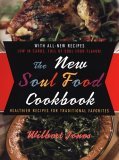 Will a Healthy Cook Book satisfy your hunger?
The New Soul Food Cook Book by Wilbert Jones is another soul food recipe book geared toward health eating.  In this cookbook the author specifically addresses all of the unhealthy aspects associated with traditionally prepared soul foods which have traditionally been high in calories, cholesterol, fat and sodium.  He teaches you how to work around these limitation and still create mouthwatering dishes.
The healthy recipes in this cook book are focused on reducing calories, cholesterol, fat and sodium while maintaining sufficient flavor to make your traditional family favorites still appeal to the taste buds.
I must add that the author clearly demonstrates that flavorful soul foods containing less cholesterol, fat, sodium and sugar can be prepared in your own kitchen.
Recipes in this cook book are arranged in the following categories: appetizers, breads, rolls and biscuits, soups and salads, main dishes, side items and desserts.
In addition to containing nearly 100 remakes of traditional soul food recipes, The New Soul Food Cook Book features an assortment of other useful information including suggested dinner menus, sauce recipes and seasoning recipes.
It can be hard to change if you have been eating traditional prepared soul food your entire life.  However if you are up for the challenge this book is a must have if you are looking to adapt to a more healthier way of cooking.  Just try out the book for a few weeks and then stop back by to tell us what you think.
Looking for a quick, easy and affordable way to grow or start your very own soul food cook book collection?
Return from New Soul Food Healthy Cook Book Review to Soul Food Cook Book Review