All-Time Favorite Traditional
Christmas Candy Recipes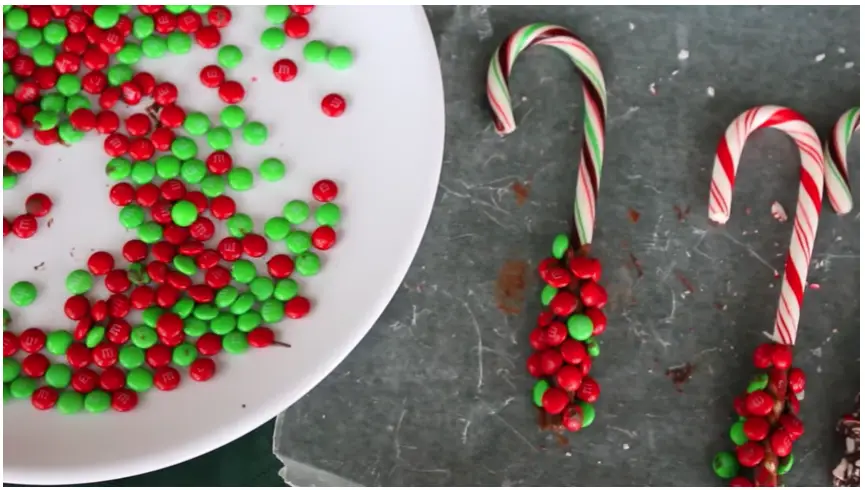 Christmas Candy Treats
You have come to the right place for some sweet Christmas candy recipes.  When thinking about christmas candy desserts such as peanut brittle, fudge, drops, mints, toffee, and truffles usually come to mind.  All of which are very popular during the month of December as we celebrate Christmas.
Preparing festive holiday candies is a family tradition for plenty of folks I know. You can eat the candy or gift ti away to friends and family during the holiday season. The choice is yours to make.
Below you will find an assortment of candies that you can put out on your coffee table or served alongside your Christmas desserts.

Holiday Mints
You will need some mint Christmas molds for this holiday mint recipe which makes about 12 dozen mints. Twelve dozen, I know this sounds like a bit much but you can stored these in an airtight container placed inside your refrigerator for about 2 weeks.
1 stick butter
1/4 cup whipping cream
1/4 teaspoon peppermint flavoring
1/4 teaspoon butter flavoring
5 cups powdered sugar
green food coloring
red food coloring

1. Bring butter and whipping cream in a large saucepan to a boil over medium-high heat, stirring continously until bubbly.
2. Remove saucepan from heat, add the peppermint and butter flavorings and mix well.
3. Sift powered sugar into the saucepan that contains your mixture and mix well.
4. Evenly divide mixture into two bowls, add a different food coloring to each bowl and mix throughly. One bowl should be colored green and the other colored red.
5. To create your holiday mints, press mixture into Christmas molds and allow mints to set. Once set just pop mints out onto wax paper and serve.
Below you will find two more Christmas candy recipes.
Coconut Walnut Drops
This kid friendly recipe makes about 4 dozen drops.
2 squares (1 ounces) unsweetened chocolate
1 can (15 ounces) sweetened condensed milk
2 cups coconut, flaked
1/2 cup walnuts, chopped

1. Preheat oven to 350 degrees Fahrenheit. Line a cookie sheet with aluminum foil, spray with a light coat of cooking oil and set aside.

2. Melt chocolate in a small heavy saucepan over low heat. Cook and stir constantly until completely melted and smooth. Remove from heat.

3. Pour milk into saucepan with melted chocolate and mix to combine. Next stir in coconut and walnuts until well combined.

4. Drop/spoon the mixture onto the prepared cookie sheet, with one inch spacing between. Place the cookie sheet into the preheated oven and immediately turn off heat.

5. Leave the candy in the preheated oven with (temperature turned off) for 15 minutes at which time the drops will look glazed. Remove from the oven and transfer onto wax paper.

Below you will find one more Christmas candy recipe.
White Chocolate Fudge With Rum
This recipes makes about 24 squares of chocolate fudge.
1 can (14 oz) sweetened condensed milk
2 cups butterscotch chips
2 cups white chocolate chips
1 teaspoon butter flavored extract
1 teaspoon rum flavored extract

1. Pour can of condensed milk into a saucepan and bring milk to boil over medium heat. Add butterscotch chips and white chocolate chips to the milk, stirring constantly until chips have completely melted.
2. When liquid mixture is smooth and creamy remove from heat. Next pour in butter and rum flavored extract and mix throughly.
3. Line a square baking pan with wax paper that extends over the sides of the pan. Pour and evenly spread the mixture into the pan.
4. Refrigerate fudge for about 1 hour, until fudge become firm. Once firm remove fudge from refrigerators, lift off of wax paper and cut into bite-size squares. Store leftover fudge in an airtight container.
DIY Holiday/Winter Treats! Quick, Easy, and Delicious
I am sure you will enjoy all three of these Christmas candy recipes for many years to come.
Before you leave, be sure to check out our recommendation for Christmas dinner and also take a look at this traditional Christmas menu.
Return from Christmas Candy Recipes to Christmas Dinner Recipes