Sensational Strawberry Trifle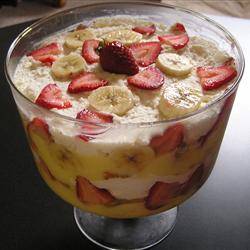 This sensational strawberry trifle recipe was submitted bu Janice Cooper of Detroit, Michigan. Janice was excited to share the recipe with us and had the following to say about this dessert:

"This is a delightful recipe that always gets rave reviews and requests whenever I make it for family functions or work outings. It's so delicious that it doesn't last long. Hubby and I have been making this delicious dessert for over 10 yrs and love sharing this with family and friends. This recipe is a guaranteed to please your dinner guests and satisfy their craving for dessert."
Sensational Strawberry Trifle Recipe

Recipe Ingredients:

1/2 cup of sugar

3/4 cup of milk

3/4 cup of cold water

1/2 tsp. of vanilla extract

1 package of vanilla instant pudding (3.4 oz box)

1 can of sweetened condensed milk

1 pint of heavy whipping cream

2 quarts of strawberries

3 bananas

1 loaf of pound cake
Recipe Instructions:

1. Slice strawberries, bananas and pound cake, set aside. In a large bowl, mix water, milk and sweetened condensed milk together then add vanilla instant pudding.

2. In a separate chilled bowl, (I normally chill my bowl in the freezer for 30 minutes prior to making the trifle) whip heavy whipping cream adding sugar and vanilla extract. Mix until heavy. Next combine both mixtures together.

3. In trifle bowl, put a layer of cake, then add fruit on top. Next cover with a layer of the mixture. Repeat this step until the bowl is full.

Prep time: 30 minutes
Chill trifle in refrigerator for at least 2 hrs. Then its ready to eat!