New Orleans Red Beans and Rice Recipe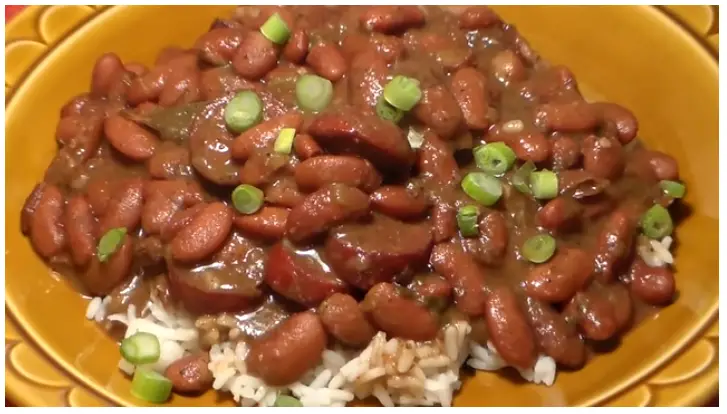 This New Orleans red beans and rice recipe has always been a family favorite.  This is one of those meals that will fill you up and have everyone leave the table satisfied. With this recipe you have an opportunity to prepare a real and authentic homemade dish from scratch, getting after from those boxed red beans and rice dinners.
For the life of me I do not understand why someone would prepare red beans and rice from a box when you can make it homemade from scratch?  
Now with the recipe below, there's really no need for you to ever cook from a box again.
Your family is going to really appreciate you for taking the time to prepare a delicious and satisfying meal like this.  
Don't expect any leftovers, because they will eat this meal up.  Often times red beans and rice is a stand along meal but we offer this advice.
Add a little variety to you meal by serving your red beans and rice with fried chicken and corn bread.  For best results, we recommend you pre-soak the beans that you will use to prepare this recipe.
Read Beans and Rice
Recipe Ingredients:
1 lb dry red beans
2 quarts water
1-1/2 cups chopped onion
1 cup chopped celery
4 bay leaves
1 cup chopped green pepper
3 tbsp chopped parsley
3 tbsp chopped garlic
2 tsp dried thyme, crushed
1 tsp salt
1 tsp black peppe
Recipe Instructions:
Sort through your beans removing any defective beans or small stones that may be present. Place the beans in a colander and rinse several times.
Place beans, chopped onion, chopped celery, and bay leaves in a 5-quart pot and cover with two inches of water. Bring to boil, replace lid and reduce to low-heat. Cook for about 1-1/2 hours until beans are tender. When beans are tender remove bay leaves then mash and stir beans against side of pot.
Next add your remaining ingredients consisting of chopped green peppers, parsley, garlic, thyme, salt and pepper. Cook uncovered over low-heat for about 30 minutes, until red beans mixture is creamy.
Serve red beans over steamed rice.
Makes 8 servings.
This recipe provided courtesy of https://www.soulfoodandsoutherncooking.com/
When selecting ingredients for red beans and rice, the most important factor to consider is quality. Start by choosing a type of long-grain white rice that you enjoy and make sure it's free of any discoloration or debris.
For red beans, look for small dark red or black kidney beans that are uniform in shape and color. Finally, choose the vegetables for the dish with care, as the flavors will really shine if you use fresh produce.
With these three tips, you can be certain that your red beans and rice will turn out delicious every time!