10 Healthy Smoothie Recipes
With Healthy Smoothie Recipes, Who needs Caffeine, Junk Food, or Sugar?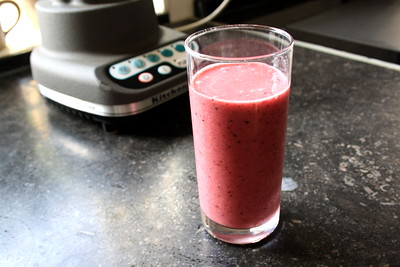 Healthy Smoothie Recipes - flickr Kelly Elisa
Healthy smoothie recipes taste awesome and can really boost your energy levels. "Whenever I need an energy boost, I reach for the blender and mix up one of these smoothie recipes."
Do you often turn to caffeine, junk foods, or sugar when you need an energy boost? If you answered yes, you're like most people. Here's the good news.
Caffeine, junk food and sugar will give you the quick energy boost your body is craving. The bad news is that the energy boost you get is only temporary, meaning the energy high, will last only a short time.
Your energy will soon come crashing down to a level that makes you feel drained, which in turn makes your craving even stronger.  This is definitely an unwanted response.
Why put your body through this emotional roller coaster ride..energy is up, energy is down?  
The truth be told, this just can't be too healthy.  I'm positive you will want to try the 10 Healthy Smoothie Recipes that follow, to increase your energy and boost your stamina.

Healthy Smoothie Recipes
Avocado Avalanche Smoothie Recipe
1 large avocado
2 teaspoons condensed milk
1 cup ice

Scoop out avocado into blender. Add 2 teaspoons condensed milk or a little more, depending on how sweet you like it. Then add the ice and blend all of it together until it's a semi-creamy texture.
488 Calories, 107g Carbs, 6.9g Fat, 13.3g Protein
Blue Berry Smoothie Recipe
2 cups fresh or slightly thawed frozen blueberries
1 cup low fat vanilla yogurt
6 ounces milk
12 ounces pineapple juice
3 tablespoons honey
12 to 16 ice cubes

Place all ingredients, except the ice cubes, into container of electric blender and blend on high until smooth. With blender running, add 2 to 3 ice cubes at a time through the center opening in the lid until all ice cubes have been added. Blend until smooth.
Serve immediately. This smoothie recipe makes 4 servings.
289 Calories, 37g Carbs, 1.9g Fat, 2.5g Protein
Cappuccino Smoothie Recipe
This is one of the healthy smoothie recipes for coffee drinkers.
2 cups brewed double strength coffee
1 pint coffee ice cream
6 cups ice
1 1/2 cups milk
whipped cream, if desired
cinnamon for garnish

Place coffee, ice cream, ice and milk in blender. Mix well until smooth. Top with whipped cream (if desired) and cinnamon.
277 Calories, 36g Carbs, 8.8g Fat, 16.8g Protein
Cherry Cantaloupe Smoothie Recipe
1/2 cantaloupe (peeled, seeded and sliced)
1/2 cups apple or apricot juice
2-3 pitted cherries
1/4 cups raspberries or blackberries>br> 3-4 ice cubes

Put all ingredients into blender. Blend until smoothie consistency is reached!
278 Calories, 27g Carbs, 3.5g Fat, 11g Protein
Frozen Fruit Smoothie Recipe
This is one of several healthy smoothie recipes for fruit lovers.
1/2 cup frozen bananas
1/2 cup frozen peaches
1/2 cup frozen strawberries
2 cups milk
1/4 cup orange juice
2 tablespoons honey

In a blender, combine and mix all the above ingredients until smooth. Pour smoothie into a tall glass, pop a straw in and enjoy! This recipe works perfectly for those hot summer days.
Serve immediately. This smoothie recipe makes 2 servings.
488 Calories, 55g Carbs, 3.5g Fat, 2.0g Protein
Mango Smoothie Recipe
1 ripe mango, peeled, pitted & chopped (approx 1-1/4 cups)
3/4 cup skim milk
1/4 cup nonfat vanilla yogurt
3/4 teaspoons vanilla extract
3 ice cubes
Pinch of salt
Fresh mint sprigs

Combine all ingredients except mint in blender. Blend well until smooth and creamy. Garnish with mint.
312 Calories, 54g Carbs, 4.2g Fat, 8.4g Protein
Orange Pineapple Smoothie Recipe
1/2 cup orange juice
1/4 cup pineapple juice
1/2 banana, peeled and chopped
1/4 teaspoons ginger root, peeled & grated
2 ice cubes

Blend all ingredients in a blender or food processor until smooth.
344 Calories, 33g Carbs, 6.8g Fat, 6.7g Protein
Peach Smoothie Recipe
1 cup frozen peach slices
1/2 banana, sliced
3 tablespoons nonfat vanilla yogurt
1/4 cup orange juice or apple juice
1/2 cup nonfat rice milk, optional
add sugar to taste

Throw all ingredients in the blender and chop and then puree for many seconds until it is delightfully smooth.
212 Calories, 37g Carbs, 4.2g Fat, 1.7g Protein
Sweet Potato Smoothie Recipe
2 medium sweet potatoes (about 2 cups)
2 to 2 1/2 cups water
1 tablespoons brown rice syrup
1 tablespoon dark brown sugar
1 teaspoon vanilla flavoring
1/4 to 1/2 teaspoon butterscotch flavoring
2 teaspoons creamy peanut butter, without nuts
2 ice cubes, optional

Bake sweet potatoes until tender. Let the potatoes cool before peeling. Peel skins away from sweet potatoes.
Add peeled potatoes and the remaining ingredients to the blender and blend well. Blend to creamy consistency and serve warm or chilled (add ice cubes).
377 Calories, 34g Carbs, 2.7g Fat, 14.6g Protein
Wacky Watermelon Smoothie Recipe
2 cups seeded watermelon chunks
1 cup cracked ice
1/2 cups plain yogurt
1 tablespoon sugar
1/2 teaspoons ground ginger
1/8 teaspoons almond extract

Combine all ingredients in blender container, blend until smooth.
249 Calories, 65g Carbs, 2.7g Fat, 6.8g Protein
Benefits of these Quick & Easy Healthy Smoothies
Just take one good look at the nutritional content of theses smoothies and it's easy to see many nutritional benefits.
All of the Healthy Smoothie Recipes above are low in calories and fat; and contain healthy and essential carbohydrates and protein that your body requires. If you're in a rush or dieting smoothies may be the perfect meal replacement.
Serving Suggestions for Smoothie Recipes
Breakfast - blue berry, mango, orange pineapple, peach, sweet potato, wacky watermelon
Lunch - avocado avalanche, cappuccino, cherry cantaloupe, frozen fruit, mango, orange pineapple, peach, sweet potato, wacky watermelon
Dinner - avocado avalanche, cappuccino, cherry cantaloupe, sweet potato, frozen fruit
Anytime Snack - All smoothie recipes can be served anytime of the day.
After trying out these healthy smoothie recipes you may like to try something different. If so, how about juicing your fruits and vegetables? For the very best juicing recipes, visit our friends at the healthy juicing website.
Before you leave this website, try out these quick and easy breakfast smoothie recipes.
Also you can look here for some healthy soul food recipes.