Bashful Butternut Squash Recipe
Butternut Squash
This butternut squash recipe come courtesy of Dr. Alice (Ally) D'Antoni Phillips. Ally has her own website but was generous enough to share this recipe for butternut squash. Along with the recipe Ally also shared the following commentary.

Bashful Butternut Squash meets Bourbon!

Is this a side dish? Is this a dessert? Is it a pie filling? Is it a topping for ice cream, cheesecake, biscuits or a pie? Can I spread it on toast?

Actually, it can be all of this things and more! This tasty butternut squash 'concoction' accented with a punch of bourbon is great year round, so don't just think cool weather, leaves turning/Fall and Thanksgiving for making it.

You can do so many things with the dish, like roll out dough and make 'fried butternut squash' pies, a little variation from 'fried apple pies'! That's what's so unique about Ally's Kitchen—always thinking of things that have multiple lives for serving! Just chalk it up to Ally's 'Bohemian Bold' twist on cooking!
Butternut Squash Recipe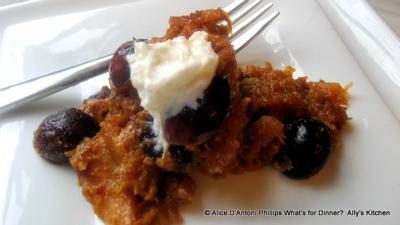 Recipe Ingredients:
½ (of whole) fresh butternut squash (I buy already peeled and packaged)—cut into pieces

4 tbl butter

½ cup brown sugar

½ blood orange squeezed juice & pulp

2 tbl lemon juice

1tbl lemon zest

½ cup bourbon

1/3 cup Fromage Blanc

1-½ cups large seedless black (sweet!) grapes cut lengthwise in halves

½ cup chopped walnuts
Recipe Instructions:
1. Melt butter in medium skillet over medium heat, add butternut squash pieces and sauté, stirring occasionally, turn heat to med low and cook until tender (about 20 minutes depending upon the size and thickness of the chunks you have cut). You will know it's ready when the butternut squash begins to kind of 'mush' and break apart.

2. Add brown sugar, orange and lemon juice and zest. Blend. Turn up heat to medium to med high and bring the mixture to a sizzle then add the bourbon. Allow bourbon and butternut squash to sizzle and cook about 5 minutes stirring and blending a few times.

3. Add in the Fromage Blanc, halved large sweet black grapes and walnut pieces. Blend everything together. Cover with a lid, Turn off heat and just allow the mixture to sit and rest for about 15 minutes.
Serves 6-8
Time to Complete: 30-45 minutes