How to Make Amazingly Moist Black Forest Cake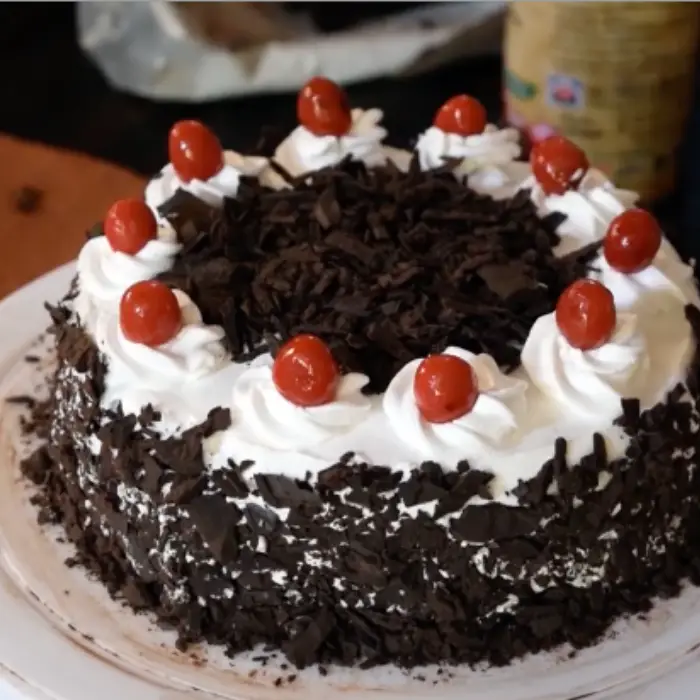 Black Forest Cake
Black forest cake is totally amazing. 
We love this cake because it combines rich chocolate cake layers with cherries and a whipped creamed frosting. Did I forget ti mention the cherry liqueur too? That also makes the cake taste so great. 

At one point growing up this was my favorite cake for the obvious reasons. However my tasted buds later evolved to appreciate other flavors of cakes and different types of delicious desserts.
Don't worry if this is your first time preparing this type of cake. You will be already and do just fine especially if you follow the recipe instruction below. Check out the video instruction to to see the cake being made in real time.
How to Make Black Forest Cake at Nome
This recipe is courtesy of our friends from "Cooking from Home".
Ingredients:
White flour (Maida) – 320  gm
Sugar – 80gm
Butter – 80gm
Condensed milk – 115ml
Milk – 230ml
Baking powder – 1tsp
Baking soda – ½ tsp
Cocoa powder – 25gm
Dark chocolate (Chopped) – As needed
Whipped cream - As needed
How to Make Cake:
1. Add butter and sugar in a bowl
2. Beat them properly.
3. Add a milkmaid (condensed milk) till well blended.
4. Now sieve the white flour (Maida), baking powder & Baking soda in that bowl.
5. Mix it well until it gets dropping consistency.
6. Now take a pan, add a butter paper in it & grease a pan with butter.
7. Add a mixture in it & bake it at 180o C for 25-30 minutes.
8. Once it baked properly remove a thin layer from that base.
9. Slice that base into 2 pieces.
10.  Now take one layer and put it on stand & soak with sugar syrup. (For sugar syrup : Take 1 cup water & 100gm sugar. Heat them till sugar does melt.)
11.  Apply whipped cream on same & spread it properly.
12.  Now put second layer of base on it & do same process.
13.  Now cover all surfaces of base with whipped cream.
14. Then garnish it with some dark chopped chocolates & cherries. 
Did you watch the video and look over the recipe? Now you should have the knowledge and confidence to get in the kitchen and try out this recipe yourself. Don't be afraid, I'm sure you'll do just fine.