Barbeque Baked Beans Recipe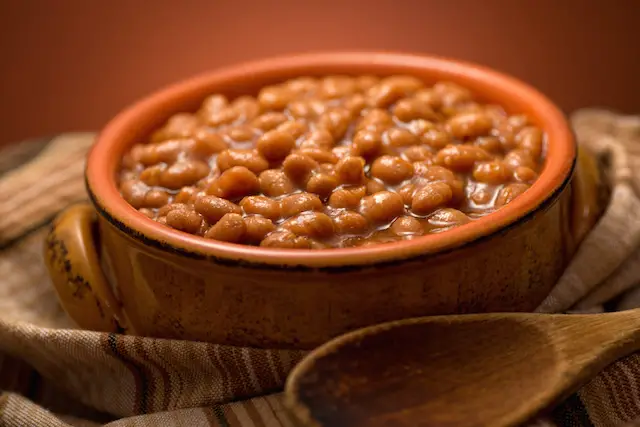 Barbeque Baked Beans
You will surely enjoy this barbeque baked beans recipe. What I like most about the recipe is the fact that it's quick and easy and almost full proof.  In fact I bet my little one can prepare this baked beans recipe and get amazing results.
Looking at the ingredients list you can easily see that this recipe will make a large amount of baked beans.  
That said, this is one of those recipe you'll want to prepare when you have plenty of hungry folks over to the house.  
When would be a good time to prepare and serve this recipe?  
When you're having a barbecue or outdoor cook and anticipate a lot of people coming over. 
Now to be honest these baked beans will come out a little sweet.  So if you making your own barbecue sauce or buy store bought sauce make sure it hot and spicy.  That way the baked beans and hot and spicy barbecue sauce will compliment each other.
Barbeque Baked Beans
Recipe Ingredients:
2 31-ounce can pork and beans
4 strips bacon, cooked and crumbled
1 cup brown sugar
1/2 small onion chopped
1/2 stick butter
1/2 cup barbeque sauce
1/2 cup karo syrup
1 teaspoon yellow mustard
Recipe Instructions:
Again these baking instructions are simple and easy. Saute onions in butter, then transfer onions to a 9X13 inch baking pan.
Add the remaining ingredients and then stir well.
Bake beans in a preheated oven at 350 degree Fahrenheit for 45 minutes to 1 hour.
This recipe provided courtesy of https://www.soulfoodandsoutherncooking.com/
When it comes to feeding a crowd, no side dish satisfies quite like baked beans! Not only is this classic dish delicious and light, but it's also loaded with essential protein and fiber.
Plus, they can be cooked ahead of time if needed - meaning less stress for the host or hostess on BBQ day. So whatever the occasion, don't forget to serve up some tasty baked beans as part of your meal – your guests will thank you!
This bbq baked beans recipe was submitted by Karen, a reader of Soul Food Digest Magazine.