St. Bernard Louisiana Parade Stew
by Christine L Appe
(Meraux, LA)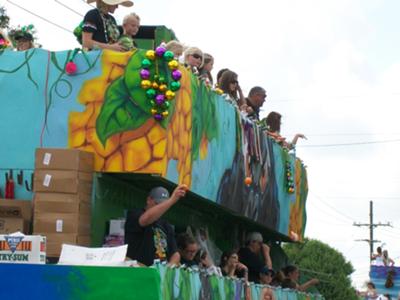 Float throwing produce
To make this special stew is the most fun thing I have ever made in the kitchen. It started off by attending the St. Bernard Louisiana Irish, Isleno, and Italian Parade which has been held for many years. From the parade floats they throw over 300,000 pounds of produce each year including, red potatoes, garlic, carrots, lemons, cabbages, onions, lemons, apples and much much more!

After the parade I realized that I could make a stew using most of the ingredients that I had caught! Since I limited it to the amount of vegtables my husband and I had caught the amount and type is up to each persons liking. My recipe is as follows:


St. Bernard Stew Recipe
The day before the parade get out your festival chair, cooler and grocery bags. (used store produce after catching) Set yourself up in the neutral ground an hour or so before the parade to get a good spot for catching produce, wait and watch out! The next thing you know a cabbage or an onion will be airborne before you eyes. (lady next to me was not careful and got hit in the head and she got a shiner instead) Have fun watching all the floats pass while chanting "throw me somethin' mister!"
Next day go to Breaux Mart in St. Bernard or your local grocery store and purchase 2 cans of beef broth and a can of diced tomatoes. After arriving back home get out the stew pot and add the broth, chop potatoes into large chunks, slice da' carrots, quarter da' onions, chop da' green pepper, peel da' garlic and slice into small pieces and add to the pot.
The spices I used are what I had on hand which were oregano, basil, black pepper, celery flakes, a pinch of black pepper and a pinch of cayenne (almost every Louisiana dish includes cayenne), a bay leaf and two tablespoons butter. Spice it how you like it!
Simmer about 25 minutes until vegetables are tender. In a small bowl add three tablespoons of flour with 1/4 cup of water and mix until it is smooth and add this to thicken the stew. Bring stew to a slight boil, stir and add the can of tomatoes and the stew is ready to enjoy!
Serve over rice. Cabbage is optional and recommended, and I did catch one cabbage but unfortunate for me, my husband does not like cabbage, so I will relive the parade again another day when I cook St. Bernard cabbage and potates just for me!