29 Quick and Easy Dinner Recipes
In 30 minutes or less you can cook up dinner with these quick and easy dinner recipes.
Are you a busy mom or dad who needs to get dinner on the table in a hurry?

We can help you out with our 29 quick and easy dinner recipes.

These recipes are great for the busy parent or caregiver who is short on time, but still wants to cook wholesome and delicious home cooked meals.
I know sometime preparing dinner can be a tough task.
Although I really enjoy cooking and being in the kitchen, like you I sometimes don't have the time and energy to prepare something good to eat for my family.
Instead of buying fast food and takeout foods, a while ago I compiled a list of quick and easy recipes that I could prepare in 30 minutes or less. That way I also have the option of cooking for my family even when I'm short on time.
Check out our 29 quick and easy dinner recipes. I hope you can out them to god use like I have done over and over again.
Quick and Easy Dinner Recipes (1-5)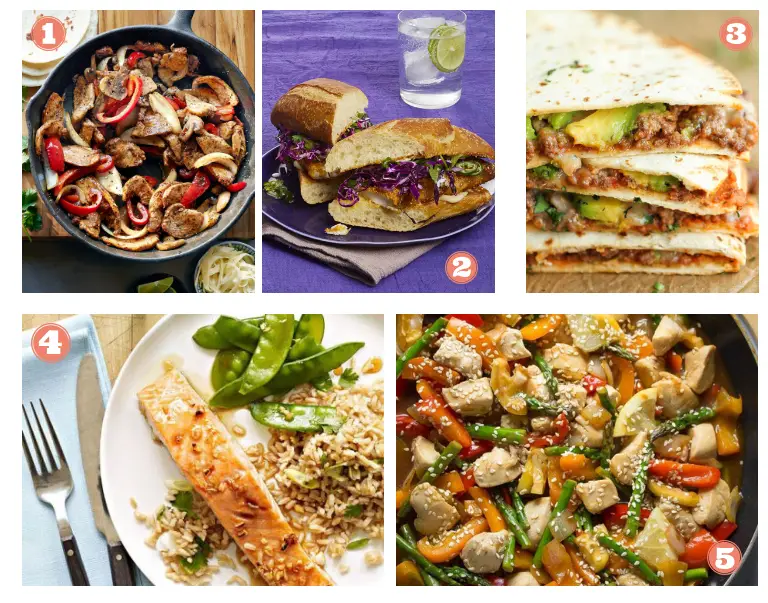 1. Chipotle Chicken Fajitas via Country Living (30 min.)
Prepare these spicy chicken fajitas anytime you have a taste for a Mexican inspired meal. Fajitas is a family favorite in my household.
2. Crispy Fish Sandwiches with Honey-Lime Slaw via Woman's Day (25 min.)
Gluten free with tangy slaw, this recipe is all you ever wanted from a crispy and crunch fish sandwich. So delicious you can't each just one sandwich.
3. Cheesy Avocado Quesadillas via Damn Delicious (20 min.)
This easy, no fuss quesadillas recipe is a family favorite for all the right reason. Cheese, avocado, and ground beef all paired together for absolutely delicious taste.
4. Honey-Soy Glazed Salmon via Family Circle (25 min.)
Easy family member will enjoy a 5oz serving of honey glazed salmon served with brown rice and steamed snow peas.
5. Lemon Sesame Chicken Stir Fry via Sweet Peas and Saffron (30 min.)
This sesame chicken stir fry has a deliciously tangy and citrusy sauce. Add in a handful of delicious veggies for a meal you'll never forget. 
Quick and Easy Dinner Recipes (7-10)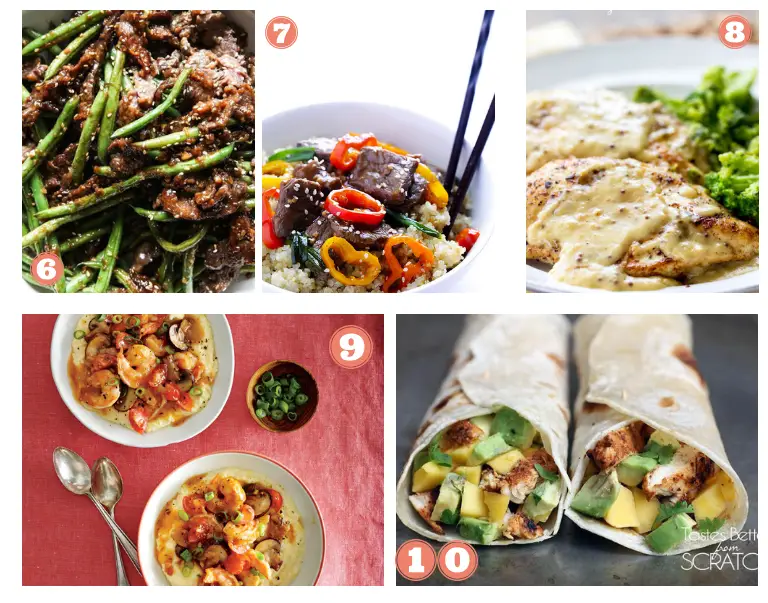 6. Sesame-Ginger Beef via Delish (20 min.)
This has been rated the most flavorful stir fry ever by a few satisfied fans. After trying the recipe out on my family I have too agree.
7. Easy Pepper Steak via Gimme Some Oven (25 min.)
This pepper steak recipe has it all. Nice juicy steak, peppers, scallions, ginger, and garlic in a great tasting marinade to produce the perfect dinner dish. Nom Nom Nom. 
8. Creamy Honey Mustard Chicken via The Recipe Critic (25 min.)
Tangy, sweet, and bold delicious flavor sums up this creamy honey mustard chicken recipe. Serve on a bed of steamed rice with a side of broccoli. 
9. Low Country Shrimp and Grits via My Recipes (24 min.)Shrimp and grits I can eat them for dinner or breakfast. With this classic Carolina dish you can quickly make a flavorful and fulfilling dinner. 
10. Chili Lime Chicken Wraps via Taste Better From Scratch (30 min.)
Chili lime chicken, topped with a fresh mango avocado salsa, served in a cheesy tortilla is dinner for today. You family will love these wraps.
Quick and Easy Dinner Recipes (11-15)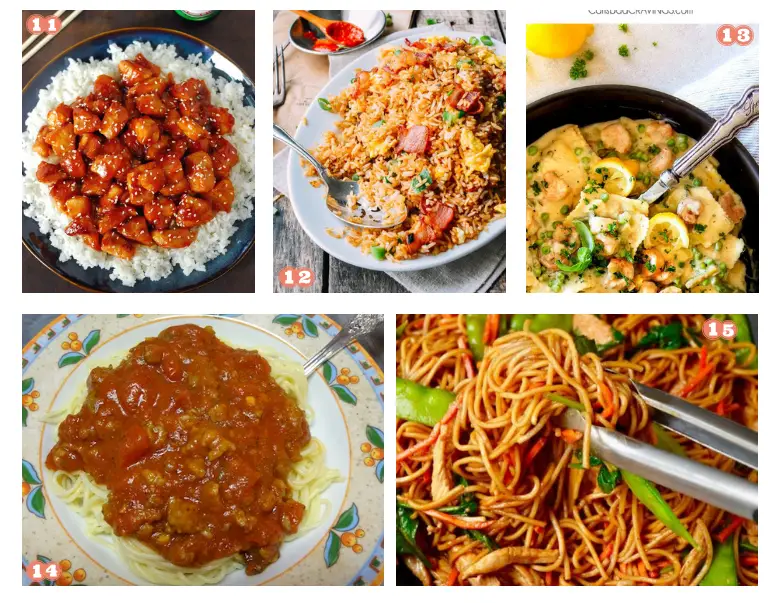 11. Orange Chicken via The Gunny Sack (30 min.)
This is the easiest way to bring American Chinese cooking into your very own kitchen. This neats any take-out orange chicken you can ever order.
12. Bacon and Egg Fried Rice via The Woks Of Life (20 min.)
This is a quick and easy three ingredient dish containing, bacon, eggs, and rice. So easy to prepare that you can even get the kids involved and helping out with dinner.
13. Lemon Garlic Cream Ravioli via Carlsbad Cravings (25 min.)
You have to try this awesome tasting one pot lemon garlic cream ravioli and shrimp recipe. It's a fun recipe to make and the leftovers taste great too.
14. Quick and Easy Spaghetti via Soul Food and Southern Cooking (19 min.)
In just under 20 minutes you can prepare a delicious spaghetti meal with this quick and easy spaghetti recipe. Don't forget to heat up some garlic toast.
15. Easy Chicken Lo Mein via Just A Taste (25 min.)
This simple lo mein dish contains noodles, chicken, and spinach cooked in a garlicky soy sauce. No need for takeout you can cook this dish at home.
Quick and Easy Dinner Recipes (16-20)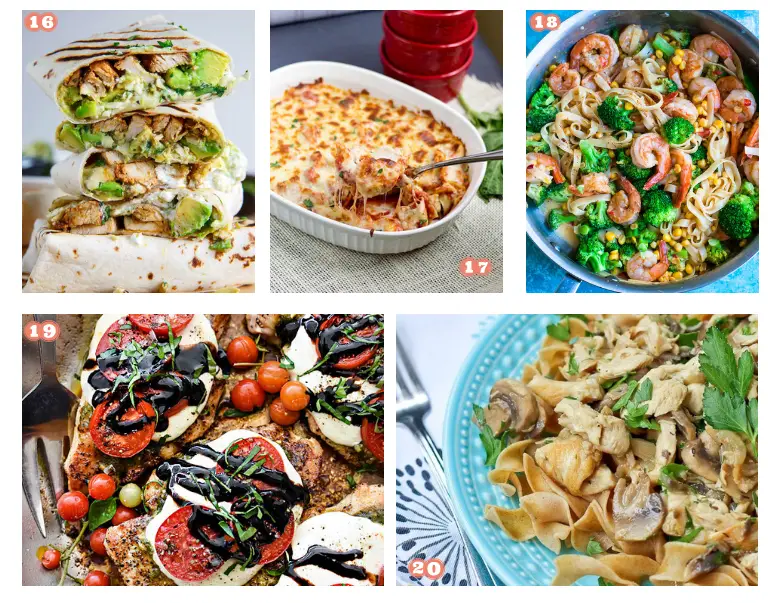 16. Chicken and Avocado Burritos via Closet Cooking (20 min.)
Is the perfect burrito stuffed with juicy chicken, cool creamy avocado, and ooey gooey melted cheese? Maybe! But don't forget to add the spicy salsa verde and sour cream to complete the meal.
17. 20 Minute Easy Tortellini Bake via This Gal Cooks (20 min.)
This is the perfect recipe, if you don't have much time to cook. Easy to prepare and easy to bake in the oven your family will love this dish.
18. Cajun Shrimp Pasta via Peas and Crayons (22 min.)
This full flavored cajun shrimp pasta dinner with lemon and veggies will be a welcomed addition to your nightly dinner rotation. Be sure to save some for leftovers.
19. 30 Minute Caprese Chicken via Foodie Crush (30 min.)
The Caprese chicken really does taste as good as the food photo looks. Just swing by the store to pick up a few simple ingredient and you can get this cooked up and ready to go in 30 minutes.
20. 30 Minute Healthy Chicken Stroganoff via Rachel Cook's (30 min.)
This healthy chicken stroganoff is the perfect weeknight meal for the busy parent. Creamy chicken and mushrooms over pasta makes for a ridiculously good meal that's healthy too.
Quick and Easy Dinner Recipes (21-25)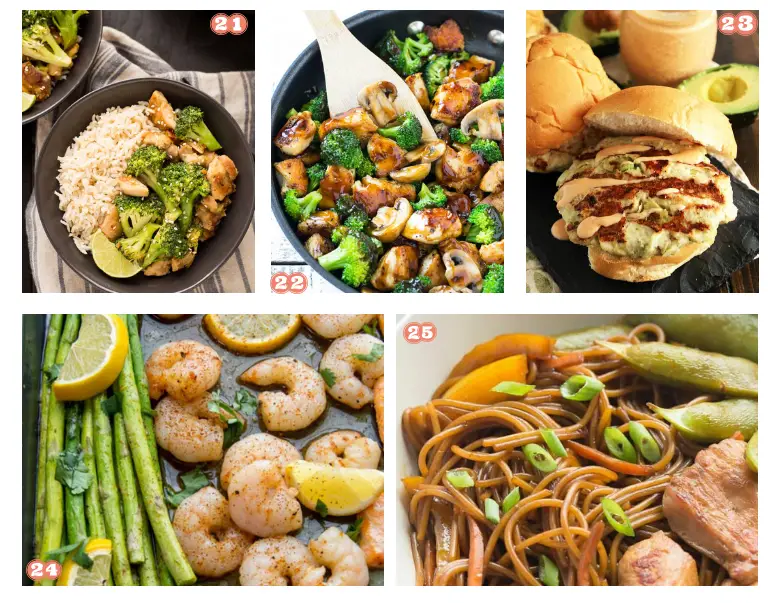 21. Peanut Sauce Chicken and Broccoli Bowls via Fox and Briar (20 min.)
When it comes to healthy meals this is one of our favorites. Serve these delicious chicken and broccoli bowls with steamed rice or cauliflower rice for a quick and healthy meal.
22. Chicken and Broccoli Stir Fry via Dinner At The Zoo (30 min.)
Another classic dish of sautéed chicken with fresh broccoli florets cooked in a savory sauce that your family will love. If you want to easy and healthy this is the dish for you.

23. Chicken Avocado Burger via Julie's Eat And Treats (25 min.)
My favorite no beef burger. This ultimate chicken burger is stiffed with avocado, garlic, feta cheese, and topped with a delicious chipotle yogurt sauce.
24. Baked Salmon, Shrimp and Asparagus via Valentina's Corner (20 min.)
This one pan oven baked dish is to die for...salmon, shrimp, and asparagus baked to perfection in juices of lemon and butter. Oh what a treat this will be.
25. One Pan Teriyaki Chicken and Noodles via The Recipe Rebel (20 min.)
This one pan teriyaki chicken and noodles dish is better than any takeout you can buy and way more healthier too.
Quick and Easy Dinner Recipes (26-30)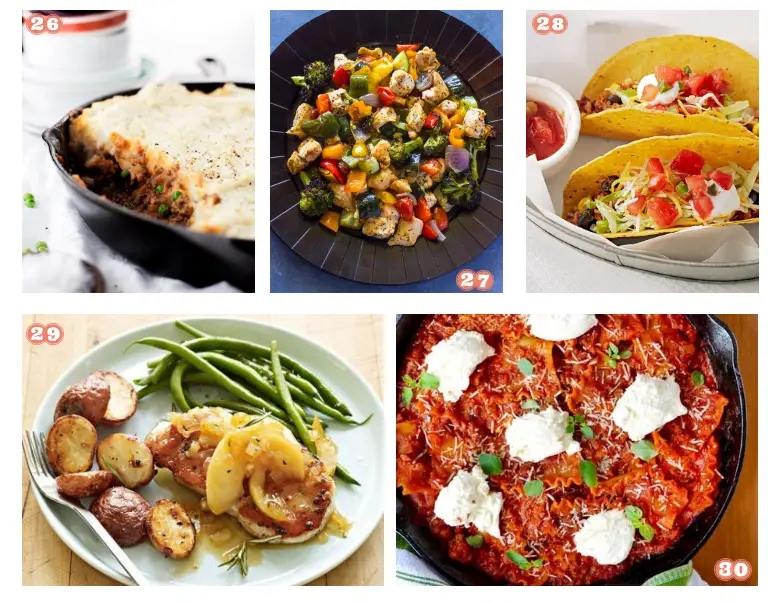 26. Easy Shepherd's Pie via Real House Moms (20 min.)
This classic comfort food dish cooks up in about 20 minutes. The pie is well made, delicious and will fill you up.
27. Roasted Chicken and Veggies vie Gimme Delicious (15 min.)
Tender & juicy oven roasted chicken breasts and a rainbow of veggies. A healthy and flavorful meal ready in 15 minutes. 
28. Quick Crunchy Black Bean Tacos via Eating Well (15 min.)
This 6 ingredient taco recipe takes on 15 minutes to prepare. The perfect recipe to prepare after a long day of work and you still need to put food on the table.
29. Pork Medallions with Apples via Family Circle (20 min.)
Pork medallions topped with applesauce, served with roasted potatoes and steamed green beans. so yummy and healthy too.
30. Easy Skillet Lasagna via Just A Taste (25 min.)
The perfect one dish dinner is this tender noodles lasagna with a hearty meat sauce and creamy ricotta cheese all swirled together for a wonder meal.
Life can be busy, but that doesn't mean you have to sacrifice the quality of your home-cooked meals. With these 29 quick and easy dinner recipes, you can have a delicious meal ready in no time!
From one-pan dishes like Shepards pie to flavorful casseroles like easy Tortellini bake – each recipe has been carefully selected to ensure maximum flavor with minimal effort.
If you're looking for something light yet full of flavor, consider cooking up these fragrant recipes full of spices and herbs. From pork medallions with apples to chicken and avocado burritos, they're sure to add a little zing into your life! And when you're running out of time, opt for an irresistible pasta dish such as chicken low mien or one pan teriyaki with noodles.
Whatever your needs may be, these 29 quick and easy dinner recipes will help make cooking easier and faster without compromising on taste. So break out the pots and pans and get ready to make some delicious home cooked meals that everyone will enjoy!