How to Make Tender Oxtails
How to Make Tender Oxtails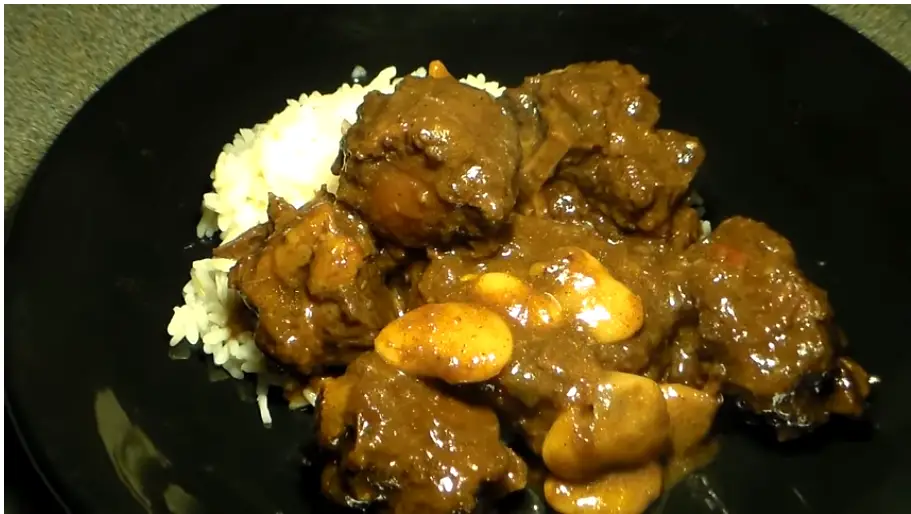 How to Make Tender Oxtails
Seems as if everybody wants to know "How to Make Tender Oxtails".

Boy do we have a treat for you if you also want to learn how to cook tender oxtails.

We've polled all of our readers and they have provided the very best tips and several different ways and techniques for cooking the most tender oxtails you'll ever eat.
Cooking Oxtails Can Be Difficult
Jerome from San Francisco California commented that "I cooked 5 lbs of oxtails in a roasting pan for 6 hours. The longer they cooked, the tougher they became. The temp was at 400 degrees.
I took them off and put 5 more pounds on in a crock pot and started over. I don't want these to get tough, what did I do wrong?
I guess I will take the others down to the shoe repair man, and get me a pair of shoes made with them.
How to Make Those Oxtails So Tender You Can Suck the Meat Right Off The Bone!!!
Don't be like Jerome. We know "how to make those oxtails so tender you can suck the meat off the bone".
Trust us on this. If you want to perfect your cooking you'll learn exactly how here if you keep on reading.
Our Reader Comments for How to Make Tender Oxtails
Jan 06, 2016
Turned out perfect  (by: Miss Oxtail)  
I tried the 2-3 hr method on low that some of you suggested.....perfecto!!!! Now I know how to make tender oxtails. Thank you so much for the help on making some oxtail soup.
Nov 12, 2015
Perfect Oxtails (by: Anonymous)  

Rinse oxtails. Season with salt, pepper and garlic. Place in oven proof dish, cover with onions, the more the better, add water half way up to the oxtails. Cover then bake in a 300 deg oven until oxtails are falling off the bone. Check once in a while to make sure water has not evaporated. Skim fat from juices and serve.
Oct 25, 2015
Best oxtails (by: Mr. Mathis)  
Go get you a real good pressure cooker top of the line. Next go get you some A1 rub. End of story!!! Set for 1hr done. Get some rice. Pour the oxtail juice on them. Man this is some good eating. 
Aug 26, 2014
Expensive but i love them (by: Anonymous)  

Must have been old meat. What you want to do is clean them up, wash them off, let them dry and then season them. Let the seasoning marinate through the meat. Place them in a pot and fill with water. Bring to a boil then reduce the heat and let them simmer.

Go find something to do while they cook. After 2 hours test with a fork. Not ready yet? Give them another hour. Now the meat should be falling away from the bones. Add onion and simmer till onions are soft. Thicken with flour or corn starch, adjust the seasoning to your liking and go to town!
May 21, 2013
Perfect Oxtails (by: Mr.Bennett)
Wash them good just with water, next choose your favorite seasoning. I like to rub the seasoning into the meat to get the oxtail tender. You will need to add some meat tenderizer. Place them in your cooking pot, add water and start them off at a high temperature for about 3hrs letting the water cook down until the top of the meat is above the water and fill it back up to the top of your pot and you repeat the process from the start until the oxtail are tender.
You can add whatever veggie or whatever to the oxtails later after they are done this will keep you from over cooking your veggie (etc).  Best of luck and Good Eating.

Mar 29, 2013
My way of cooking oxtails  (by: SIS. Sherman)  

Hi, I am not a chef by any means...but I can and like to cook.

This is how I cook my oxtails. First I clean them. Second, place them in a bowl, add seasoning salt, and cover with water, and set in refrigerator for about 2-3 hours. Third, I set my oven temperature to 350.
Fourth, I pour off the water and make sure oxtails are somewhat dry. Fifth, I season them with seasoning salt, chili powder, onion powder, thyme, oregano, and black pepper. Sixth, I get a pan, add 2 tablespoons of oil and put on high. Seventh, place a portion of the oxtails in the pan, and seer until all have been brown. (do not crowd, you do not want water, so seer in portions). Eight, I place these in a pot, until all oxtails have been browned.
Ninth, once in the pot, I get an onion, slice it, and saute them in the same pan. Tenth, place saute onion in pot with oxtails, and sprinkle and toss with soy sauce. Eleventh, put in oven and let cook for about 2-3 hours or until done. Tender, tender, tender. Now this is how to make tender oxtails.
Mar 25, 2013
Oxtails How to Cook Them in a Pressure Cooker (by: Richard)  

Put 5 pounds of Oxtails in a pressure cooker, for 1 hour, they will be ready to eat with the meat falling off the bone. Keep it simple to cooking Oxtails. No all day long cooking in a crock required!
Dec 11, 2012
Pressure cook oxtails (by: Charmaine)  

Hi Jerome,

I always cook oxtails in a pressure cooker pot. Walmart has a great, affordable selection. I recommend buying a 10 or 12 quart capacity pot.
My mother has ALWAYS cooked oxtails by this method, also, and all my siblings cook them the same way, with excellent results.

Pressure cooking them takes no more than one hour, approx., thus, saving on your energy bill :-) Good luck & good eatin'!!!!!!!
***Our Comment***
Cooking with a pressure cooker is one of the easiest and best way of cooking oxtails and is in fact our most guarded secret of how to make tender oxtails.
Nov 08, 2012
How to make tender oxtails (by: LaToya)  

I love cooking oxtails in the slow cooker. I slice an onion and put the slices in the bottom of the slow cooker so the meat doesn't sit in its grease; then I season oxtails with pepper, garlic powder, onion powder, and a little season salt; after that, I put them in the slow cooker on low over night.
They make their own juice (along with fat), so I add a small amount of broth (chicken or beef). When I awake in the am, the house is smelling good and the oxtails are fabulous!
Oct 12, 2012
How To Make Tender Oxtails (by: Ms. Sharon)  

I've cooked oxtails in the crock pot, on top of the stoves as well. The BEST way that I've made them are: I seasoned them as you would any meat,lightly flour them.
I place oil in a pan (not too much, but enough to brown them), lightly browning them, drained them & placed them in a pot with onions, garlic & water.
SLOWLY cooking them. They may have cooked for an hour & they were falling off the bones..DELICIOUS!
Aug 28, 2011
How to cook oxtail meat (by: Orchids)  
I cooked 6 pieces of oxtail meat for 1-1/2 hour by boiling it first on high heat then lower to med - low and cook for 1-1/2 hr and it will be ready for any kind of cooking. Example oxtail soup like in las vegas or with vegetable of different kind. Salt and pepper to taste, or with cilantro and ginger. Plain and simple.
Apr 10, 2011
My take on How to make tender oxtails (by: Laura) 
Oxtails are one of those meats that have to be cooked low and slow. You can't rush them. My personal preferred cooking method is a crock pot set on low for about 10 hours. 

If you're trying to get something a little faster than that, say, 3 hours, then you'll need to ensure that your oxtails simmer slowly for about 3 hours.

You can also cook your oxtails in the oven and have them turn out tender. You have to ensure that there is always liquid in the pot. Get a good dutch oven (cast iron is ideal but incredibly heavy), put the lid on tight, set the oven at about 325 for an hour or two then drop the heat to about 275-300 for another couple of hours.
Check the oxtails every 30 to 45 minutes to ensure that there is plenty of liquid in the pan. You can't cook oxtails dry or they will be tough. Keep in mind that you'll have to increase the cooking time if you have a lot of oxtails.
Oct 20, 2010
Feel your pain (by: Big poppa)  

Jerome, six hours is the way too long at 400 degrees. If you are braising in a roast pan, 375 degrees with pan covered should take 2 or 2-1/2 hours. It also depends on the meat itself. There must also be fluid in the pan. Use a broth which covers 1/2 to 3/4 of meat in pan. In the end you can use 2 table spoons of cornstarch to thicken the gravy
Jan 26, 2009
How To Make Tender Oxtails (by: Soul Food Chef)  
Jerome, I feel your pain, nothing disturbs me more the cooking a meal that doesn't turn out right. I've never tried cooking oxtails in a crock pot, but from what I can tell, it looks like you're cooking at too high a temperature.
I think for the best results, you should trying boiling your oxtails on the stove top until they are tender. Just bring your oxtails to a boil in a heavy bottom pot, that retains heat well, then reduce heat to MED and simmer with lid on, until the oxtails are tender. This will take 2 to 3 hours. But the results will be well worth the wait. 
By now you should know how to make tender oxtails. We have plenty of other beef recipes for your to try out too.