Cajun Blackened Steak and Shrimp
Cajun Blackened Steak and Shrimp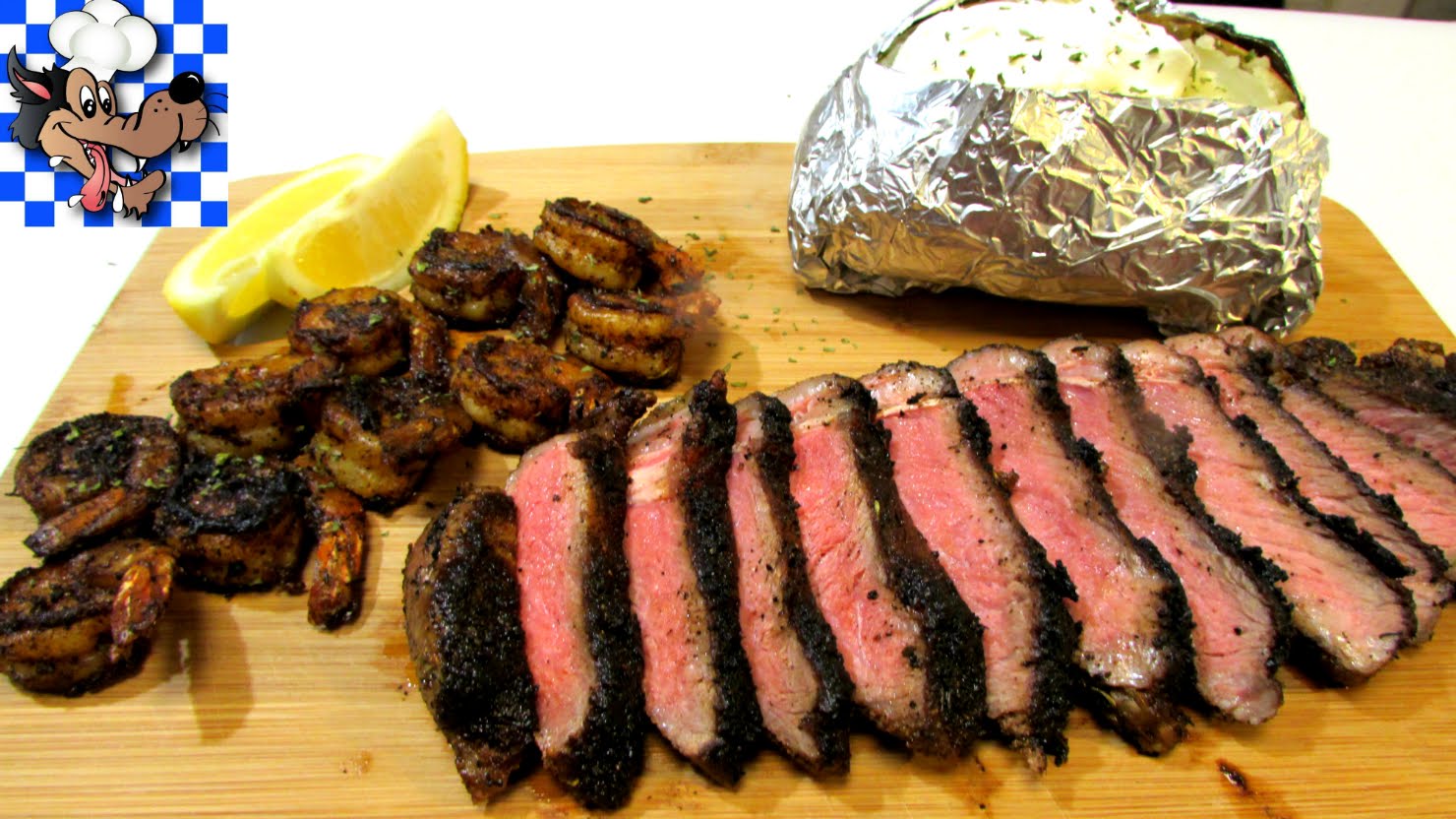 Cajun Blackened Steak & Shrimp
If you're looking for something unique and full of flavor, then this Cajun Blackened Steak and Shrimp recipe is the perfect choice. The combination of the spicy blackening spices, tender steak, and succulent shrimp makes for a truly delicious meal.
Each bite is packed with robust flavors that are sure to tantalize your taste buds. Best of all, it's easy to prepare in just a few minutes!
So why not give this classic Cajun dish a try today? You won't be disappointed.
Today's recipe for blackened steak and shrimp has quickly become a family favorite for obvious reasons — the food taste so good.  When it comes to surf and turf one of my favorite preparation techniques is to blacken the steak and shrimp with Cajun seasonings and lots of grass fed butter for probably the best tasting blackened dish you'll ever eat. Along side the meats I serve a few sides or two with my favorite side being baked potato topped with heaps of butter and sour cream.
Would you like a quick and easy way to prepare Cajun style surf and turf? Well I have a video that'll teach you how to prepare this recipe in the least amount of time and get the best results right away. The video and list of recipe ingredients are provided courtesy of our friend Larry Wolfe from the website The Wolfe Pit.  Larry is an awesome cook and from time to time I like to share some of his best dishes so others can get in on some good eats.
Watch the video now!!!

Cajun Blackened Steak & Shrimp
Recipe Ingredients:
Blackened Steak and Shrimp Ingredients
2lbs - Steaks of your choice
1 lb - Shrimp (peeled and deveined)
2 TBS - Peanut Oil
4 TBS - Butter
Fresh Lemon Juice
Blackening Seasoning Ingredients
4 TBS - Sweet Paprika
2 TBS - Salt
4 tsp - Granulated Garlic
4 tsp - Granulated Onion
4 tsp - Black Pepper
4 tsp - Cayenne Pepper
2 tsp - Thyme
2 tsp - Oregano
This recipe provided courtesy of http://www.thewolfepit.com/
Important Notes:
Cooking with this seasoning blend creates a lot of some so be sure to open windows in your kitchen for properly ventilation against excessive smoke.
To make Cajun spice seasonings, just combine all ingredients in a bout and mix throughly. Store any leftover seasoning blend in an airtight container for later use.