Quick and Easy Baked Chicken and Biscuit Recipe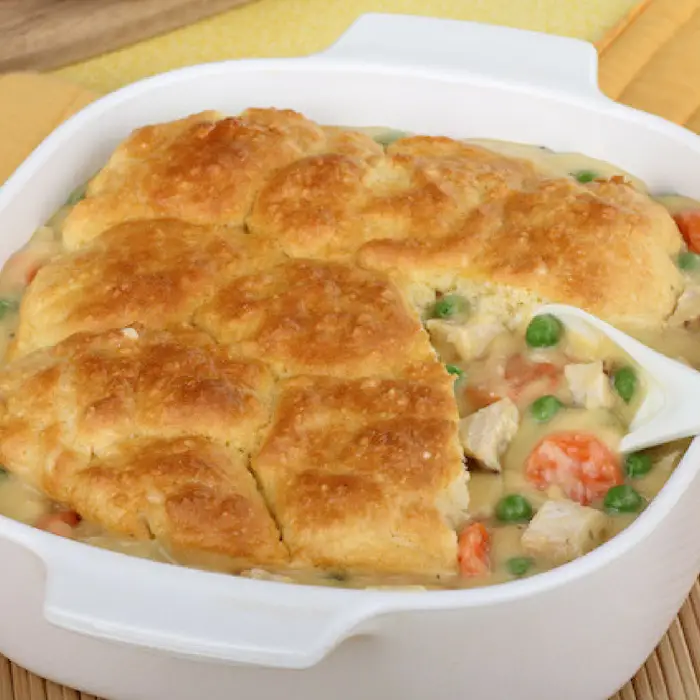 Baked Chicken and Biscuit Recipe
This wholesome, hearty, and delicious baked chicken and biscuit recipe is a family favorite. This is a great meal alternative any time you have leftover grilled or baked chicken. Not to mention the fact everyone who tries this chicken and biscuit recipe always ask for seconds. 
Another great benefit is the fact this recipe is quick and easy.  I prepared this dish one time for an office potluck and my coworkers cleaned the dish out and asked me for the recipe later.  True story, a few months later my fellow coworker prepared this dish for our Thanksgiving potluck and again the same results.
Baked Chicken and Biscuit Recipe
Recipe Ingredients:
2 cups boxed biscuit mix
1/2 cup milk
5 tablespoons butter
6 tablespoons flour
Salt, pepper to taste
Thyme and other herbs (optional)
1 cup half and half
2 cups chicken broth
1 medium onion, peeled and finely chopped
3 1/2 cups cooked, diced white meat chicken
1 small package frozen mixed vegetables, cooked and drained
Recipe Instructions:
Preheat oven to 400 degrees Fahrenheit.
While oven is preheating, prepare biscuit dough by blending together mix and milk. Turn your dough out on a lightly, floured surface. With rolling pin roll dough to about a 1/2-inch thickness and using a cutter cut into 2 1/2-inch diameter biscuits. Reserve the remaining dough for topping.
Next in a medium saucepan, melt butter over medium heat and then add flour. Stir butter and flour mixture constantly until well blended and bubbling begins. Add spices, half-and-half and chicken broth. Continue to cook and stir until sauce thickens.
Finally, place chopped onions, cooked chicken and mixed vegetables into a greased 2-quart casserole dish. Pour sauce over the top and then place biscuits on top, completely covering the pie. Brush top of biscuits with milk.
Bake biscuits at 400 degrees Fahrenheit until biscuits are golden brown and done, about 35 minutes.
This recipe provided courtesy of https://www.soulfoodandsoutherncooking.com/
Okay now that you have the recipe it's time for you to get in the kitchen and bake yourself a healthy, wholesome, and tasty meal. Your family will really appreciate this fulfilling meal. No need to thank me, all I ask is that you go ahead and try out this recipe. You won't be sorry.
Oh I forgot to mention if you have a family of three, four, or more don't expect any leftovers.