Get Your Christmas Recipes Today!
Hi
Do you need help planning your Christmas dinner?
The reason I ask is because most people including me are so focused on gift shopping and wrapping presents that they totally forget to plan out their Christmas menu until the last minute.
If you fall into the category don't worry I got you covered. I've complied the all-time favorite Christmas recipes for you to download today.
In This Issues
- Honey Baked Ham
- Roasted Turkey
- Corn Bread Dressing
- Cranberry Sauce
- Giblet Gravy
- Candied Yams
- Macaroni and Cheese
- Deviled Eggs
- Red Velvet Cake
- Pecan Pie


---
Cookbook Specials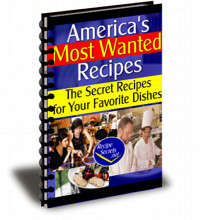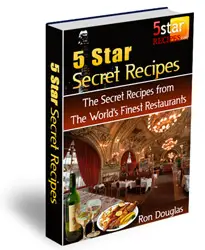 ---
Honey Baked Ham
1 - 8 to 10 pound smoked ham
whole cloves


Glaze for Baked Ham

1/2 cup honey
1/2 cup orange juice
1 cup packed light brown sugar


Preheat oven according to package cooking directions. Place ham fat side up on the rack of a shallow roasting pan. Insert meat thermometer through fat side into center of thickest part of the ham, but don't let it touch the bone.

Bake ham according to package directions. About 1/2 hour before ham is done prepare glaze by combining ingredients and mixing well. Next remove ham from oven and pour off drippings. Peel away any rind that is left on ham and score ham with a sharp knife.

While scoring make diamond shaped cuts. Insert a clove into each diamond. Spread ham generously with glaze and return to oven. After applying glaze, bake until desired internal temperature is reached.

Remove ham from oven and allow to stand for about 20 minutes before slicing. If desired, remaining glaze can be poured over sliced ham.

Makes 10 to 12 servings.



---
Roasted Turkey
1 turkey, fresh or frozen (follow package directions to thaw)
butter or margarine, softened
salt and fresh ground pepper
gizzards and neck from turkey
3 cups water
1 stick butter or margarine


First remove, neck, gizzards and anything else from the body cavity of the turkey and set aside for your broth. Rinse turkey under running cold water, then pat bird dry using paper towels. Rub the outside of turkey generously with softened butter or margarine, salt and pepper. If desired loosely place stuffing of choice into the neck and body cavity of your turkey. Close all openings with string and now your bird is ready for roasting.

Preheat oven to 325 degrees Fahrenheit.

While your oven is preheating, its time to make your turkey broth. Place your turkey neck and gizzards, water and stick of butter in a sauce pan. Bring broth to a boil, then immediately reduce to a simmer.

Place bird into a roasting pan and place into preheated oven. After 30 minutes of cooking, its time to begin basting the turkey frequently with your turkey broth and pan drippings from the bird. Frequent basting will produce a juicer bird.

Cook turkey to an internal temperature of 180 to 185 degrees Fahrenheit, with the center of your stuffing reaching at least 165 degrees. Allow turkey to cool for about 15 minutes before carving.



---
Cornbread Dressing
2 cup self rising corn meal
1-2 tablespoons sugar (optional)
1 1/2 cup milk
1 egg
3 tablespoon vegetable shortening oil or dripping
1 cup finely chopped cooked chicken gizzard
1 cup finely chopped celery
1 medium green bell pepper, finely chopped
1 teaspoon sage (adjust to taste)
1 teaspoon poultry season (adjust to taste)
1 cup finely chopped onions (optional)
5-8 cups chicken broth


Preheat oven to 425.

In a medium mixing bowl, combine corn meal and sugar. Add milk and egg. Mix until blended, then add shortening and again mix until well blended. Pour cornbread mixture into greased pan and bake for 20-25 minutes. Once done remove from oven and allow to cool. Grease a 8 or 9 inch baking pan and set aside.

To make dressing, crumble up cornbread, add chicken gizzards, celery, green bell pepper, sage and poultry seasoning to taste. Add chopped onions if you like.

Next pour 5 to 8 cups of chicken broth into cornbread mixture. Mix well and then pour unto greased baking pan. Bake dressing at 350 degrees for about 1 hour or until dressing is browned to your liking.

For large families you can double or triple this recipe. Just make double or triple the amount of corn bread and do the same for chicken gizzards, celery, bell peppers, etc. Add sage and poultry seasoning to taste. Then pour in enough chicken broth to make your mixture somewhat soupy. Pop the cornbread dressing into the oven and cook until browned.

Be sure to pour giblet gravy on top of your corn bread dressing.



---
Giblet Gravy
2 cups chicken broth
1/4 cup flour, general purpose
1 cup cooked gizzards, finely chopped
1 hard boiled egg, finely chopped


In a saucepan add flour to chicken broth, stirring slowly to mix well. Then add gizzards and chopped eggs. Cook over medium heat until sauce thickens to your liken. Pour your gravy into a sauce bowl and serve over your favorite corn bread dressing.
---
Cranberry Sauce
12 ounces cranberries, fresh or frozen (I prefer fresh)
1 cup sugar, granulated
1 cup cold water


In a saucepan, add cranberries, sugar and water. Bring mixture to a rapid bowl then reduce heat to a simmer and allow cranberries to cook until they pop open. Stir mixture frequently while simmering. Allow cranberries to cool, pour into your serving bowl and spoon onto plate.

This recipe makes about 2-1/2 cups of cranberry sauce.



---
Candied Yams
2 cups water
2 cups fine granulated sugar
4 tablespoons butter
1 teaspoon lemon juice
1/2 teaspoon ground nutmeg
1/4 teaspoon cinnamon
8 small yams or sweet potatoes


The following cookware and kitchen utensils are needed to complete this recipe. 2 measuring cups, medium boiling pot, measuring teaspoons, knife.

Peel outer skin from yams or sweet potatoes and slice into 1/2 to 3/4 inch thick circles. Rinse in cold water, allow to drain then set aside for later use.

In a medium pot, bring water and sugar to a rolling boil, add butter, lemon juice, nutmeg, cinnamon and sliced yams or sweet potatoes. Return to boil, cover pot and reduce heat to simmer.

Cook yams or sweet potatoes for 35 to 45 minutes until tender. Gentle stir throughout cooking.



---
Macaroni and Cheese
1 – Box Elbow Macaroni, About 16 Ounces
1-1/2 – Pound Shredded Cedar Cheese
1 – Cup Whole Milk
1 – Stick Butter, Unsalted and Softened
A Pinch Of Salt
Pepper To Taste


Preheat oven to 350 degrees.

Soften your butter using your microwave. Microwave the butter on low for about 60 to 90 seconds. You only want to soften the butter, therefore check the butter every 10 to 15 seconds to ensure it doesn't melt.

Boil your elbow macaroni according to package instructions.

Place cooked and drained macaroni in your casserole dish. Add softened butter, milk, pinch of salt, pepper to taste and one pound of shredded cheddar cheese. Gently mix to blend the ingredients. Layer the top of your macaroni with the remaining cheese, about 1/2 pound.

Bake macaroni with cheese at 350 degrees for about 1 hour. The top layer will turn golden brown when the macaroni is ready. Do not allow your mac and cheese to dry out.



---
Deviled Eggs
8 large eggs
1 teaspoon prepared mustard
1 tablespoon pickle juice
1/2 cup mayonnaise
salt and pepper
paprika
lettuce (optional)


This recipe works best if you use fresh eggs. Ask you grocery store clerk for the freshest eggs, about 7 days old.

Place your eggs in a saucepan and cover with at least one inch of cold water. Bring water to a boil over medium-high heat. Cook eggs for 8-10 minutes after water begins to boil. Remove from heat and rinse eggs in cold water so that they peel more easily.

Peel the eggs and halve the lengthwise. Remove the yolk and push through a fine sieve into a small mixing bowl. If you're without a sieve just mash the yolks well with a spoon or fork.

Combine the yolk together with mayonnaise, prepared mustard and pickle juice to produce a smooth texture. Season with salt and pepper to taste and give one finally mixing.

Using a teaspoon or pastry bag fill egg halves with mixture. Place egg halves on serving dish, cover with plastic rap. Refrigerate for about 1 hour.

Just before serving, slightly garnish each egg halve with paprika. If desired serve on washed lettuce leaves.



---
Have a very Merry Christmas!
J-Jay Johnson
Editor Soul Food Digest